Kenko - a brand usually associated with lens filters and teleconverters - is out to dazzle the flashgun market with this, its first ever flashgun: the AB600-R AI.
The 'AI' part of its model name gives you a clue as to its standout feature - like Canon's trailblazing Speedlite 470EX-AI, it boasts an Auto Bounce head that automatically calculates and moves the head to give you optimal bounce angle for more flattering flash illumination. The feature works whether your camera is in landscape or portrait orientation, and it can bounce sideways off a wall, or upwards off a ceiling.
The head also incorporates an Auto Lock function that lets you fine tune the automatically calculated bounce angle and the system will remember the altered setting and automatically re-adjust the head when you move your camera between horizontal and vertical orientation.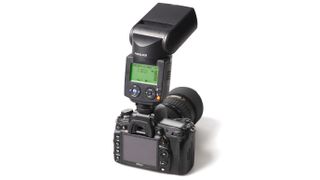 It's not just the fancy new head that impresses. There's also plenty of lighting power thanks to a GN60 output rating (ISO100 at 200mm), and the trick head also incorporates a motorized zoom to adjust the flash burst to suit lens focal lengths between 18mm and 200mm.
Handy extras include TTL automatic metering, and a built-in 2.4GHz radio receiver in addition to an optical slave sensor for wireless off-camera and multi-flash shooting. The radio receiver can even allow a master AB600-R AI to remotely control the auto bounce angle of a slave AB600-R AI.
There's also the usual compliment of 1st and 2nd curtain sync modes, along with high-speed sync.
Power comes from 4x AA batteries that enable recycle times of 0.1-3.5 seconds, or alternatively there's the optional Kenko BP-1 Battery Pack which can be loaded with up to 8x AA batteries to further reduce recycle times and increase run-time.
The Nikon-fit AB600-R AI is now available, priced at £399. Canon and Sony versions will follow soon. US pricing and availability has yet to be revealed.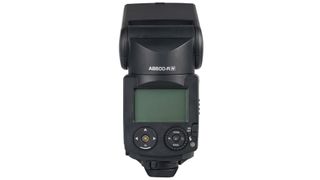 Main Features
Guide Number: Max. 60 (ISO 100 at 200mm)
Zoom Range: 18-200mm (18mm using wide panel)
Flash Modes: i-TTL-BL / i-TTL / M (manual) / RPT (multiple flash)
Flash Frequency Range: 1~200Hz
Flash Test Function: Horizontal -180~180° / Vertical 0-120°
Wireless Communication System: Optical/radio (2.4GHz)
Supported Sync Modes: 1st/2nd curtain sync, high-speed sync
Bounce Mode: Auto bounce / Manual bounce (both with angle lock function)
External Connection Terminal: Micro USB terminal (for firmware updates) / Sync terminal / External power supply terminal
Exposure Correction: -3.0~+3.0 in 1/3 EV steps (TTL)
Power Output Adjustment: 1/1~1/128 1/3 EV steps (manual)
Temperature Warning Function: Yes
AF light beam assist: 29 point AF
Recycling Time: Approximately 0.1-3.5 sec (using NiMH rechargeable batteries)
Power: 4x AA type (alkaline / nickel hydride)
Dimensions (WxHxD): 80 x 196 x 62mm
Weight: 470g (without batteries)
Accessories: Soft pouch case
Read more: