In a move that shouldn't really be anything close to a shock, Google has quietly renamed its Google Camera app to Pixel Camera. Although the former branding was clear and concise, the fact that only Google-branded phones were officially supported by the Google Camera app, it makes total sense to rebrand the app as Pixel Camera, thereby making it totally clear that the app is only for Pixel phones. Prior to the rebrand, it was plausible to assume Google Camera would work on any Android device with a built-in camera, but this was not the case.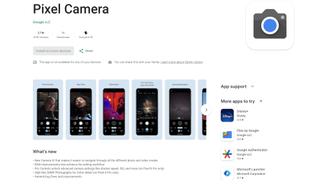 The newly-labelled app has also been given a fresh description in the Play Store, to better reflect the features it can now unlock in current and recent Pixel devices:
Never miss a moment with the fully redesigned Pixel Camera, and take fantastic photos and videos using features like Portrait, Night Sight, Time Lapse and Cinematic Blur.
Pixel Camera is available for Pixel phones running Android 14 and above, though only the latest Pixel 8 and Pixel 8 Pro are eligible for the latest version 9.1 of the app. Prior devices like the Pixel 7 range, Pixel Fold and Pixel Tablet are limited to version 9.0.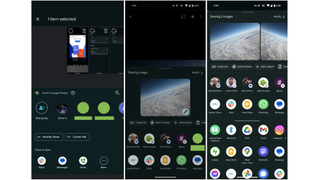 Alongside the Pixel Camera rebrand, Google has also streamlined the photo sharing process within the Google Photos app. Now when the share icon is clicked, a 'Sharing image' sheet pops up, including a 'Modify' option in the top right of the sheet which enables the sharing of multiple images. The new sharing sheet also includes an image preview of the photo to be shared, with the preview containing a pencil icon that can be used to launch the Mark-up tool. The new share sheet is included in version 5.65 of Google Photos, but like the Pixel Camera app, you'll need to be running Android 14 on a Pixel device to access the latest app version.
Read more:
The best camera phones
The best burner phones
Which is the best iPhone for photography?
The best TikTok lights
Best camera for TikTok