Canon has released some remarkable products this year, but perhaps its most intriguing are the Canon RF 600mm and 800mm f/11 super-telephoto, super-cheap lenses for the EOS R system.
The Canon RF 600mm f/11 and Canon RF 800mm f/11 are true wonders of engineering – and, according to the engineer that designed them, "can only be achieved with the EOS R system".
And it turns out that the inspiration for these lenses was, in fact, a series of bellows-driven Canon super-telephotos from 1960 – including the Canon R 800 f/8 and Canon R 1000 f/11.
• Read more: Best Canon RF lenses
In a Japanese interview shared by DC Watch, Canon's engineers explain the development and design of the new lenses, including the frustration of one executive that has been with him since childhood.
"I'm sorry about my boyhood story," says Kengo Iezuka, Chief of Lens Product Planning. "At that time, I wanted to take a picture of a wild bird, Little Egret, but I couldn't buy a super-telephoto lens because it was too expensive. I tried to make a telephoto lens with a close-up lens with a focal length of 400mm, but it didn't look good, and I wondered why it didn't look so good.
"I knew that many people gave up what they wanted to shoot and the expressions they wanted to shoot because they couldn't buy a super-telephoto lens or couldn't carry it because it was big and heavy. With the EOS R system, I think I was finally able to get closer to the dream super-telephoto world."
Since its launch, Canon has paid a lot of lip service to all the things that 'only the EOS R' and 'only the RF mount' can do. However, here is a case in point where that really does prove to be the case.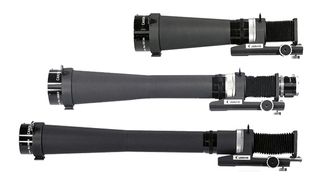 "I wanted to create specs that can only be achieved with the EOS R system and enjoyment through new user experiences. Among them, I wondered if I could break through the three barriers of 'heavy, big, and expensive' for super-telephoto lenses. Canon's dual-pixel CMOS AF is strong against AF even in the dark, so a super-telephoto lens with a large F-number may be possible."
In particular, the system's ability to operate even in extreme darkness made it possible to shatter shooting limits – such as shooting at f/22, which was not practical in the pre-mirrorless era.
"Since the EOS R system can measure distances up to the maximum aperture of f/22, I thought that the f-value of the lens alone would be f/11, considering the installation of a 2x extender. With f/8, the lens becomes thicker, and with f/16, it exceeds f/22 when the 2x extender is attached.
"Even in the era of single-lens reflex cameras, I wondered if I could manage to get closer to the world of super-telephoto lenses that exceed 400 mm. I considered increasing the F-number as I did this time, but it didn't work. If you increase the F value, you can only AF at the center of the screen. With a single-lens reflex camera, the viewfinder became dark and there were concerns about usability, so I gave up."
Iezuka reminded us that these kinds of super-telephoto lenses are not new, particularly for Canon, which has a tradition of innovative designs – and in fact, released a 1000mm f/11 lens back in 1960.
"Looking back, Canon's first SLR camera system, the R mount, also had a 'slender' super-telephoto lens like the 600mm / 800mm F11. The optical system is as simple as a telescope, the focusing is bellows, and the weight is as light as 2 kg.
"At that time, the sensitivity of the film must have been strict, but many models of super-telephoto lenses were prepared. When each company turned their attention to single-lens reflex cameras from rangefinder cameras up until that point, it can be seen that Canon explored the possibility of super-telephoto shooting in the part of 'because it is a single-lens reflex camera'… Canon has a history of enhancing telephoto lenses."
The whole interview makes for fascinating reading, and goes into detail on the entire engineering process – including how the collapsible mechanism was the result of an internal competition among Canon's designers, which was won by the team's youngest member. Make sure to give it a look at DC Watch.
Read more:
Canon RF 600mm f/11 IS STM review
Canon RF 800mm f/11 IS STM review
Best 150-600mm lenses: great super-telephoto zooms to get close to the action