Three top soccer players from English team Arsenal FC have swapped scoring goals to taking photos for Visit Rwanda's Photography Challenge. Gabriel Magalhães, Ben White and Bukayo Saka tested their skills behind the lens in the hope of taking the winning shot, under the guidance of sports photographer Sam Mironko.
Cameras for sports photography need to have fast burst modes and precise autofocus so that photographers are able to freeze fast-moving subjects. A skill that comes naturally to the people who do it every day proved to be a bit more of a challenge to the players who are more used to controlling a ball than a camera. Playing for one of the elite Premier League teams, the three are no strangers to being photographed – but which prevailed behind the camera?
• Check out the best lens for sports photography - telephoto zooms perfect for capturing action in the distance
Armed with what looks like a Sony A9 II and a prime lens, the three players were tasked with taking a sharp, crisp image of a teammate doing "keepy uppies" (a drill to keep tapping the ball in the air with your feet). Although Sam described photography as "just pressing a button", the players quickly learned there was a lot more to it than that. The limitations of a prime lens meant there was no zooming in and out to get the shot, and instead the players had to move around to get the perfect picture.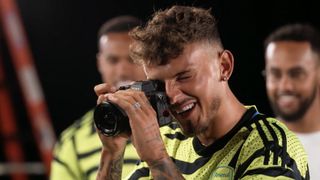 Each player had ten seconds to compose their image and take the shot. While they all managed to take a clean image (the camera settings had already been dialed in by Sam), Gabriel was the only one to really move around and experiment with different angles – and was crowned the winner. In the second task, each player was asked to pose in the position they would want their statue to be in, while Mironko took their photos – a much easier task.
• Watch the Visit Rwanda photography challange
Over on Instagram, Mironki described what an "incredible feeling" it was to represent his country while creating memories alongside his favorite childhood team. Visit Rwanda is a tourist information center that has partnered with Arsenal Football Club in an attempt to support the country's tourism industry. It is hoped by partnering with a high-profile team, more people will notice how the country has transformed in recent years and attract more visitors.
I don't think these world-class soccer players are going to change careers any time soon but, perhaps the next time they see a photo of themselves online or in a newspaper, they'll have a little bit more appreciation for the photographer who took it. You can watch the Visit Rwanda photography challenge here.
Check out the best monopods and best tripods– perfect for taking the weight of massive heavy telephoto lenses.