Hungarian surreal self-portrait specialist Flora Borsi has been announced as the first Hasselblad Heroine of 2021.
Borsi is among eight women being spotlighted by the annual Hasselblad Heroines initiative, as the iconic camera company looks to celebrate the achievements of female photographers around the world.
• Read more: Best Hasselblad lenses
Each week, the eight photographers – which also include Andrea Zvadova, Katerina Belkina, Isabella Tabacchi, Alissa Ashley, Anja Niemi, Jillian Edelstein and Nina Welch-Kling – will share experiences, challenges and inspirations from their careers.
Kicking things off is the following interview with Flora Borsi, whose work focuses on self-portraits that communicate emotions and surrealist dreams…
How did you get your start in photography?
For me, Photoshop came earlier than photography. I wanted to be a graphic designer and a UI web designer when I was a teenager. And at the age of 11 I started to work in Photoshop and when I was 15 I won a national photography award, which came with a camera, and I started to learn the basics of photography with the help of my dad, because he's an engineer.
And this is how I got into photography. but I was always looking for something which is more than traditional photography so I started to do self-portraits because I was diagnosed with a tumor, and I was really scared that nothing will [be] left of me in this world. So I wanted to have something which is immortal and this is art and this is art and this is how I became a photographer.
What challenges have you faced as a photographer?
At the beginning it was really hard because in my country there is a more traditional way of seeing art, and my main field is surreal photo manipulation… so it was very hard at the beginning to have even an exhibition. But slowly in time there were people who recognized me as something which is not that usual, so I started to do exhibitions, and this is how I got into the art world.
And this inspired me to do more and more portraits because I realized that I'm not doing this for myself any more, and to fulfill my own happiness – I instead make other people happy with my art, and this is just amazing for me. So this inspired me to continue with my photography, but it just had many many years of struggling. But [the] internet just helped me because my audience just widened through the world, and my country didn't stop me from doing what I loved.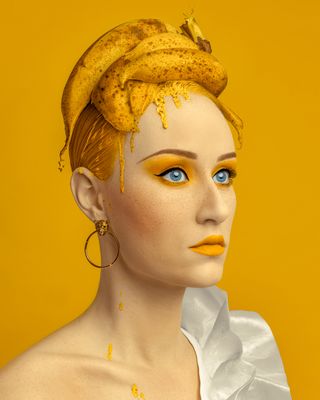 How do you think the photography industry has changed?
Nowadays I think it's easier to become anything, because there is all the knowledge on the internet. So anyone can become a professional photographer if they are willing to learn enough, and study all the basics, and they have the passion about it and they love to do this. So the photography industry is more open to anyone, and it's easier to access it.
And for women it's also better because, like, 50 or 100 years ago it was really difficult to become a photographer because they needed to buy all the tools, and they had to be established, and they had to find a job. And for a woman it was really hard at that time, so I'm really glad that it's more open and we are supported by big companies like Hasselblad – and I'm really happy about this.
How would you like to see the industry changed?
Big companies or the fashion industry could use or employ emerging artists, and young artists, who could bring some new perspective on the campaigns they have made, so it would be fresh and new and the style of these photoshoots wouldn't be that usual, so this is what I would love to see.
Where do you look for inspiration?
The most inspiring photographer, for me, is Tim Walker and his team. I also like Annie Leibovitz and Cindy Sherman – I think it's amazing how they developed a signature style that is recognizable from everywhere in the world, and I just love their portraits. And they also like to feature animals and different elements from nature, so they are my favorites.
Read more:
Best medium format camera
Hasselblad X1D II 50C review
Hasseblad 907X 50C review
Metabones Fuji G Speed Booster makes Hasselblad lenses faster