The swanky new Sony 200-600mm G OSS f/5.6-6.3 FE lens was just listed on an auction site with a bargain starting price of ¥20,000 (£146 / $185). There's only one problem: the lens doesn't actually exist yet.
Y'see, the Sony 200-600mm G OSS f/5.6-6.3 FE telephoto lens hasn't even been announced. It is reportedly being announced later this week, but as of right now it's not a product that anyone can purchase, pre-order or even get their hands on.
That is, anyone except 'gxgrm 822' – a user on Yahoo! Japan's auction house, who somehow not only had their hands on this lens but then tried to sell it on the site.
"SONY Sony FE 5.6-6.3 / 200-600 G OSS telephoto lens <Junk> It is," read the Yahoo! listing (machine translated).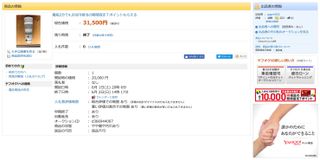 "A little, disassemble, it will be exhibited in junk because it is not all ready. There are no accessories or boxes. I think that it will be for parts removal." The listing was later updated with the note, "Operation Unconfirmed. Thanking you in advance."
So what the heck is the story here? Fake lens? Fake listing? Bizarre marketing tactic?
The most probable explanation is that this lens is real, and is a prototype. That would explain its dissembled state, and its listing status as "junk" (which would typically be listed on sites like eBay in the UK or USA as "parts only").
The question then becomes, how did gxgrm 822 get their hands on it – and did they even know what they were selling?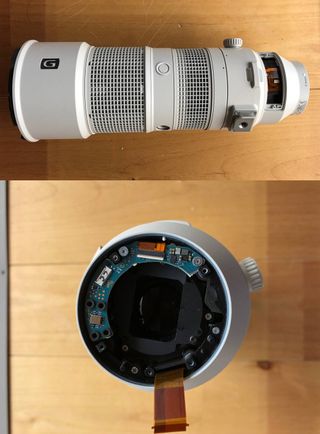 The chances of Sony's R&D team being so lax as to just allow a lens to wander off are as about as likely as a lottery winner being struck by lightning on the same day they flip a coin that lands edge-on.
It would seem, then, that this lens was acquired by entirely underhanded means. "I bet is that this is a stolen prototype!" wrote the admin of Sony Alpha Rumors. "If I am right the auction will be removed by yahoo soon after Sony's official complain!"
Indeed, the auction met a mysterious end. Bidding had only reached ¥31,500 (£230 / $291) when the party was over, bids were removed and nobody won. Well, nobody except Sony, which has the benefit of some guerrilla publicity.
Stay tuned for the official announcement of the Sony 200-600mm G OSS f/5.6-6.3 FE, which we're fairly sure will have a higher RRP and won't just be available via sketchy auctions.
Read more:
The best Sony lenses that actually exist outside of dodgy auctions
Leica 0 camera sells for record amount at auction
Prototype Canon cameras revealed at CP+