Sony is launching a new compact camera that is designed to appeal to vloggers. The Sony Z-V1 II is billed as an ultimate successor to the Sony ZV-1 which it launched back in 2020, and which is the oldest in the ever-increasing ZV range of cameras designed for vloggers.
The key difference of the new ZV-1 II is that it offers a wider zoom range than the original, providing an 18-50mm f/1.8-4 Zeiss Vario-Sonnar T zoom - rather than the original 24-70mm f/1.8-2.8. Sony tells us that the wider lens is a more natural choice for vlogging, making it easier to use in selfie mode - and allowing you to get more of the background in your shot, or to shoot groups with a handheld camera.
The camera improves on the simple Bokeh Switch capabilities introduced with the Mark 1 model too – providing a mult-face recognition mode for video shooting that automatically adjusts the aperture (and bokeh) to ensure that if a new person enters the frame they will also be in focus.
Other improvements on the camera include being able to recharge the camera via USB-C, and a design tweak that now allows you to change the battery without needing to remove the optional Shooting Grip.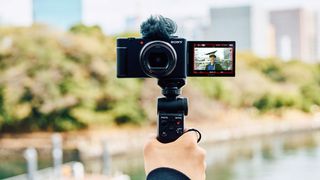 A new Cinematic Vlog Setting allows you to shoot in a panoramic widescreen mode - with a 2.35:1 aspect ratio and black bars. A variety of Models and Looks are offered to stylize your footage - as if 'grading' your movies to give them a more cinematic look.
The 3-capsule microphone has also be enhanced - allowing to switch to using jus the front or rear elements of the mic, to isolate the speaker's voice better, without the need for using an accessory vlogging microphone.
A Shot Mark feature allows you to tag your favorite parts of the action as you shoot, so you can find these quicker, and automatically just send these clips to your phone. Thanks to UVC support, the ZV-1 II can be connected direct to a computer (or a compatible Sony Xperia phone) for use as a webcam for live streaming.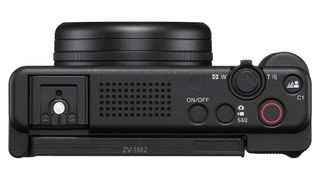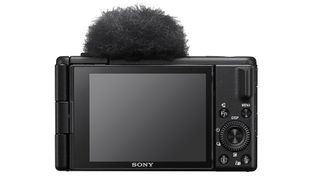 Many of the original features remain unchanged - such as the 20-megapixel 1-inch sensor, the 921k-dot 3-inch rotating flip-out screen, and the hybrid AF system. There are minor tweaks even here though - a new animal tracking to the movie autofocus system, for instance, and there are more touchscreen functions on the LCD.
The Sony Z-V1 II will go on sale in June for $899/£870/AU$1,499. The existing Z-V1 will remain on sale in the range for some time to come, we are told.
In line with Sony's Road to Zero sustainability objectives, the camera will not be supplied with a charger (but can be recharged with a standard USB-C lead).