Luminar AI is being launched as a brand new product which effectively replaces the current Luminar 4, which will no longer be on sale. Skylum does say, however, that Luminar 4 will continue to get support and regular updates for another year. The company clearly thinks, however, that its AI-driven approach to photo editing is the future.
Skylum is presenting Luminar AI as completely new software, though some of the tools and features may be familiar to existing Luminar users.
It's being pitched at 'visual communicators, everyday people and professional photographers alike', and continues Skylum's development of its intelligent image enhancement tools. It looks set to deliver the kind of 'idealised' reality favored by a new generation of bloggers, vloggers and influencers.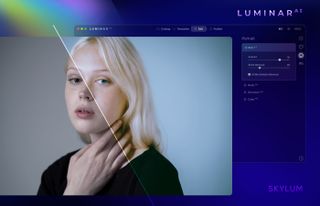 The AI tools will include Body and Face AI to refine faces and portraits, together with AI-driven iris and skin enhancement. Landscape photos will benefit from the Sky Enhancer tool seen in previous versions and Golden Hour and Sunrays filters, and new 'Atmosphere' and 'Sky' AI tools.
The aim is to deliver professional-looking results more easily than with traditional software, with tools like the Structure AI, Accent AI new Composition AI features.
Alex Tsepko, CEO of Skylum, says: "Luminar AI will help make image editing easier for everyone. We've removed the boring and difficult parts of photo editing without sacrificing creativity. Luminar AI will be a great tool in a creator's workflow. They can focus on great results — not on the process of editing."
Luminar AI price and availability
Luminar AI is now available for pre-order. The full price will be $79/£79, but Skylum is promising 'early bird' discounts for the first 30,000 buyers.
Read more:
• Best photo editing software
• Best free photo editing software
• Best photo-editing laptops
• Best monitors for photographers