Specialist photo printing company WhiteWall have recently launched a range of exciting new products, aimed to help photographers produce inspirational printed images. The firm is now offering circular prints and other more complex shapes for their range of specialist materials.
Circles, in addition to hexagonal, octagonal and dodecagonal shapes can be created from images, with the aim of producing prints with added intrigue. The unusual formats break convention in that they do not adhere to standard aspect ratios, such as 2:3 (the native aspect for many DSLRs and CSC's) 16:9 (widescreen format) or 1:1 square format.
Each shape is available in WhiteWall's Under Acrylic Glass, Aluminum Dibond Direct Prints, HD Metal Print, Forex Print and Direct Print On Wood output options. The aim is to direct attention to the content of the images, with the frame shape complimenting the shape and form of the subject matter. By combining multiple shapes, gallery displays can take of additional meaning and keep audience engagement.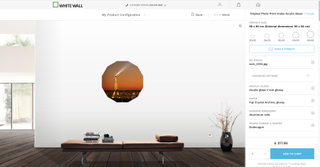 Most enthusiast and professional photographers can produce many thousands of images per month, yet it is clear that only a tiny fraction of these digital files ever make it to print. Fewer and fewer photographers chose to output their work in physical format, either due to cost or a perceived lack of interest in printed images.
All of WhiteWall's products arrive ready to hang, with integrated wall mounts. All prints are available in pre-configured sizes, ranging from 20 x 20 cm up to 100 x 100 cm, with prices varying depending on shape choice, size and printing material. These start from around £32 ($40) up to approximately £347 ($437).
The new printing service was originally due to have been launched at The Photography Show this weekend, which has now been postponed until 19-22 September due to the Covid-19 outbreak.
Read more:
The Photography Show & The Video Show 2020 will take place 19-22 September
Best photo cards: personalized greeting cards for weddings, birthdays & holidays
The best photo books in 2020: create a personalized picture album online