The new Rotolight Titan X1 is not only claimed to be the most powerful 1x1ft LED light panel on the market but allows different levels of diffusion to be selected at the turn of a dial.
Using the same technology as the award-winning Titan X2 2x1ft light, the new X1 is much smaller, lighter and more affordable – although at £2880 (US pricing TBC) it's still of most interest to professionals and well-heeled enthusiasts.
The British-made panel puts out a maximum of 8290 lux/ 770 foot-candles at a range of 1m/3.3ft, which roughly equates to an exposure of f/2.8 at 1/500th sec at ISO 100. It also has a unique set of technologies that make it ideal for filmmakers and stills photographers as it can be used as a continuous light or a high-speed sync flash.
Rotolight has made this video (above) to showcase the Titan X1 and its capabilities.
Using RGBWW LED diodes, the precise colour temperature and green/ magenta tint for white light can be set from 3000-10,000K using the dials on the back of the panel, the colour touchscreen or via remote control.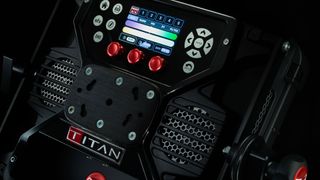 Or for more creative effects you can set any colour you like, dragging the sliders or turning the adjustment dials for different hue, saturation and intensity, or precisely setting a mix of red, green and blue. There are also settings to match the light output to around 1400 filters to match Lee or Rosco filters.
The unique SmartSoft function allows you to dial in the diffusion, focus and spread of the light output without the need for diffusion gels. The light comes with barn doors to control the light spread, and can be fitted inside Rotolight's range of softboxes to soften the output even more.
SFX mode offers filmmakers lots of different special effects, all of which are customisable. There are settings to replicate fire, lightning, TV, gunshot, camera flashes, welding sparks and more.
Check out the video below: Filming a music video with Peter Neill and the Rotolight Titan X1
High speed flash with zero recycle time worries
For photographers who don't want to use continuous light, the Titan X1 is the world's first High Speed Sync RGB flash with support for shutter speeds up to 1/8000th sec. It has a built-in Elinchrom EL-Skyport flash receiver but you need to buy your own transmitter. There is a normal flash sync port, too.
Weighing in at 6.8kg/ 14.9lb, the Titan X1 fits onto a normal light stand rather than a large cine-style stand, and comes with a choice of mounts. It comes with a separate mains transformer, but can also be powered by V-Lock batteries on location. Rotolight will offer these, along with a charger unit, as an optional extra. Other extras include a fitted, wheeled aluminium case or padded bag. Everything will be on sale this month with special introductory pricing until December 31.
Read more:
• Best video lights
• Best LED light panels
• Best flashguns
• Best flash diffusers
• Best photography lighting kits
• Best reflectors for photography