Imaging Resource recently published an interesting interview with a number of executives from Ricoh, owners of the Pentax brand, as part of the press blitz for the CP+ trade show in Japan.
The interview, by Imaging Resource's Dave Etchells and William Brawley, covers a range of topics, however one of the most, well, surprising, is the assertion by Ricoh's General Manager of the Marketing Communication Department Hiroki Sugahara that he expects mirrorless converts to return to DSLRs within one or two years. The steady stream of new Pentax lenses seems to back this up.
It's worth quoting Mr Sugahara at length:
"Currently, mirrorless is a newcomer, so of course many users are very interested in the new systems, they want to use [them]. But after one or two years, some users who changed their system from DSLR to mirrorless come back to the DSLR again.
"The mirrorless camera is very convenient to shoot, because users can [preview the final] image before shooting. But I believe the DSLR has its own appealing point, because users can create their own image from the optical viewfinder. People can see the beautiful image through the optical viewfinder, and then think how they can create their pictures -- for example, exposure level setting or white balance or ISO [sensitivity] -- and then imagine how they can get [the result they're seeking]...
"So the DSLR market is currently decreasing a little bit, but one year or two years or three years later, it will [begin] getting higher."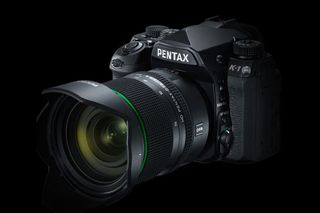 That last statement is an especially… interesting assertion. It certainly flies in the face of conventional wisdom regarding the current state of the camera market, where most agree that mirrorless sales are among the many things cannibalising the sales of DSLRs. As recently as January of this year, Canon has pointed to the growing mirrorless market as a reason for the slowing of DSLR sales in recent years, hence the introduction of its own full-frame mirrorless RF-mount cameras last year.
Indeed, 2018 was very much the year of the full-frame mirrorless camera, with Nikon and Panasonic also getting in on the action while Sony shored up its own extensive offerings with the introduction of the Alpha 7 III. You may have been wondering whether Ricoh/Pentax would also be getting in on this action – the answer, it appears, is emphatically no.
The whole interview with Imaging Resource is worth a read. Other interesting titbits include: assurances that medium-format users can expect a follow-up to the 645Z, and confirmation that a new APS-C follow-up to the K3 II is in development, though we're a way away from a release date or any other solid information.
Read more:
• The best Pentax cameras in 2019
• The best Pentax lenses to buy right now
• This is what the new Pentax 85mm f/1.4 lens looks like
• The best DSLR cameras in 2019