The Photography Show & The Video Show Virtual Festival is less than a month away, and you can now secure your FREE digital seat by registering via The Photography Show website. The futuristic virtual festival will be the first of its kind in the UK and will take place on 20-21 September 2020.
Visitors will be able to navigate over 120 stands from exhibitors including Canon, Nikon, Panasonic, Sony, Fujifilm and Olympus, where they can chat to industry experts, watch kit demonstrations and take advantage of exclusive show discounts – all from the comfort of their own home.
The Photography Show's coveted program of speakers will take to the virtual sphere via both pre-recorded sessions and live-streamed Q&As, and event goers will even be able to enjoy a 3D gallery and exhibition space, and take part in networking elements via Zoom.
The transition to an online format has facilitated a wealth of exciting opportunities. Visitors will be able to use a new platform called Ask the Experts, where they can chat to a panel of experts for one-to-one advice regarding their work. And following the success of the Burst Mode digital series, presenter of The Photography Show TV, David McClelland, and Digital Camera World editor, James Artaius, will deliver hands-on content with the latest kit and talk to manufacturers about new launches.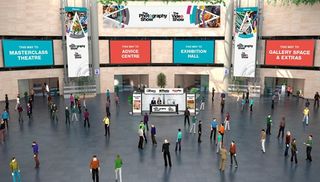 While browsing the virtual show floor, visitors will be encouraged to engage with brand specialists, watch product showcases, seek specialist advice and of course, enjoy exclusive discounts on the latest kit. The main stage will host a program of sessions throughout the event including tutorials, demos and interviews, to help inspire photographic and filmmaking journeys.
"With the show being hosted online, it is more accessible than ever before and we hope this will encourage new audiences to find out what The Photography Show & The Video Show is all about," said Head of Events at Future plc, Jonny Sullens. "We're thrilled to have the backing of some of the industry's biggest brands and we're working hard to transition from the NEC's bustling halls into a digital world."
The Photography Show & The Video Show has been bringing the imaging industry together for the past seven years, and welcomed over 32,000 visitors in 2019 alone. It's an event for anyone passionate about photography and filmmaking, and attracts both photographers, filmmakers, vloggers and content creators from enthusiast through to professional.
The physical show will return to the Birmingham NEC next year, from 18-21 September 2021. For more information, visit: www.photographyshow.com.
The Photography Show & The Video Show Virtual Festival FAQ
Q - Is there an entry fee?
A - It's completely FREE. If you bought a ticket for the 2020 event at the NEC, please remember that you'll be able to use it for the 2021 show.
Q - How do I access the event?
A - All you need to do is register and you'll be sent a link via email. Your link is unique and cannot be used by multiple devices or people simultaneously.
Q - Do I need to download or install any information to be able to attend?
A - No. You only need access to the internet, and most web browsers will support the event platform.
Q - Will I be able to access the event on any device?
A - Yes! Phone, tablet, laptop or computer - whatever you have will work.
Q - Is there a 'how to' guide?
A - You will be sent a handy guide via email a bit closer to the event, and you'll also be able to click on the Info Point for technical support and event information on the day.
Q - Will I be able to see any of the content if I miss the event?
A - Yes, you can watch all content using the same link provided for four weeks after the event has finished, but you won't be able to chat to your favourite brands, watch live sessions or participate in chats.
Read more:
The Photography Show 2020: Everything you need to know about the virtual event
Welcome to The Photography Show: Burst Mode!
How to use your camera as a webcam
How to set up a virtual hangout: the easy way to get people together on Zoom