In the latest exciting news from CES 2020, the PowerEgg X drone has been announced, a two-in-one drone and handheld camera that is sure to make ripples in the camera drone market. Launched by PowerVision Technology Group, a company specializing in robotics and big data technologies, the PowerEgg X features AI-enhanced video, photography and aerial capabilities.
The PowerEgg X has a 4K Ultra HD, 60fps 3-axis stabilized camera and has a battery that gives up to 30 minutes of flight time. It weighs in a 862g. It can also realize real-time 1080p image transmission from distances as far as 6km to help you capture stunning vistas.
Read more: Best camera drones
Errant weather is no problem either, with the PowerEgg X being able to hand a maximum wind speed resistance of 29-38 kph.
Alternatively, if you love capturing stormy dramatic vistas, you might want to consider investing in the PowerEgg X Wizard version, which can fly under heavy rain. By using the included waterproof shell and landing gear, the PowerEgg X Wizard can also land on water! This makes it a perfect option for boat owners or water sport enthusiasts.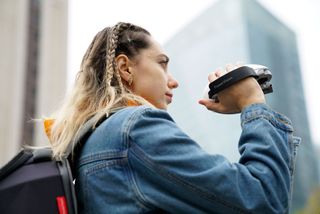 One of the most exciting aspects of this fresh piece of tech is that it's not just a drone. The PowerEgg X can also be transformed into a lightweight handheld camera with up to 3.5 hours of battery life in this mode. Capable of shooting both stills and video, the PowerEgg X can capture hyper lapses, 120 fps slow motion and can even live stream to multiple platforms.
Another intriguing feature is the PowerEgg X's AI camera mode and intelligent composition functionality. This allows the drone to help users create dynamic and innovative content. The PowerEgg X's integrated facial recognition technology continuously improves its accuracy through deep-learning training, which means that the subject can be tracked precisely when moving.
You can pick up the PowerEgg X Explorer for just $899 / £725 and the PowerEgg X Wizard for $1,249 / £977.
Read more
Best DJI drones
Best drones for beginners
Best drone accessories: essentials add-ons for DJI drones & other quadcopters