Ricoh Imaging has announced that the two-year-old K-1 full-frame DSLR is set to be succeeded by a Mark II version.
Read more: The 10 cheapest full-frame cameras right now
Most of the new camera's core appears to be the same as that of the K-1, such as the 36.4MP full-frame sensor that lacks an optical low-pass filter. The sensor does, however, now work with a new accelerator unit that partners with the PRIME IV processing engine to optimise image data, which in turn is said to help produce high-quality images with as little noise. The new camera will use the same full frame Pentax lenses as its predecessor.
Pentax K-1 Mark II specs
36.4MP full-frame sensor, no optical low-pass filter
PRIME IV processing engine and new accelerator unit
Full HD video recording to 60i/30p
Pixel Shift Resolution System II with Dynamic Pixel Shift Resolution mode
5-axis, 5-stop Shake Reduction II system
4.4fps burst shooting (17 Raw files or 70 Best-quality JPEGs)
3.2in three-axis tilting LCD, 1,037k dots
Optical pentaprism viewfinder, nearly 100% coverage
SAFOX 12 AF system, 33 points (inc. 25 cross-type sensors)
86,000-pixel RGB metering sensor with Real Time Scene Analysis system
Dustproof, weather-resistant body
Shutter rated to 300k actuations
Built-in GPS system
Dual SD-type card slots (to UHS 1 standard)
Additionally, image processing parameters have been revamped, and Ricoh claims that noise reduction has drastically improved at high sensitivities. The ISO range itself can be extended to a setting equivalent to ISO 819,200, something that wasn't available on the original K-1 (but a feature that did appear on the recent K-P model).
Read more: Pentax K-1 Mark II review
The previously seen Pixel Shift Resolution System, which captures and combines four images into one high-resolution composite, is also now on its second generation. This latest iteration, which makes use of the camera's five-axis, five-stop Shake Reduction system, incorporates a newly developed Dynamic Pixel Shift Resolution mode, which is designed to be used at high sensitivities while hand-holding the camera (rather than having to use a tripod).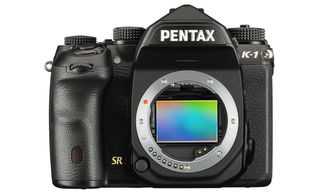 The presence of this Shake Reduction system also means that we get the familiar collection of features based on this technology, such Auto level compensation and Image-composition fine-adjustment. Furthermore, this works with the camera's GPS system to enable the ASTRO TRACER feature, which allows users to capture stars and other celestial bodies without any trails.
Other features include a dustproof and weather-resistant exterior, together with the same position-it-anywhere 3.2in LCD screen that featured on the K-1. Ricoh also claims the Outdoor Monitor function has also been improved to provide better visibility when shooting in darker conditions.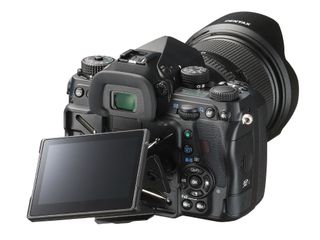 The camera also mirrors the K-1 – and indeed, many cheaper Pentax models – in offering a pentaprism viewfinder with nearly 100% coverage, while the 33-point SAFOX 12 AF system that was included in the Pentax K-1 has also been maintained for the new model, with 25 of these points being the more sensitive cross-type variety.
Pentax K1 Mark II price and release date
The K-1 Mark II will be available from the end of March, with a body-only price of £1799.99 in the UK and $1999 in the US.
Read more:
• The 10 best full-frame cameras in 2018
• The best Pentax lenses to choose right now