Nikon Peru has come up with an ingenious campaign to prove the power of real photography over AI-generated images. In the last few months, AI image generators have claimed to be able to replace photographers offering cheaper, faster alternatives to hiring the real deal. Editorial and advertising photographers in Latin America have been particularly affected by these recent new developments but Nikon's campaign is a testament to the beauty of what they call "Natural Intelligence".
Using the slogan 'Don't give up on the real world' Nikon found a series of surreal-looking landscapes you can actually visit, all shot on Nikon cameras. From from colorful Hornocal Mountains in Argentina (John Fowler) to the giant Renisdranger basalt stacks on Iceland's infamous black sand beach (Marco Nürnberger), it's hard to imagine that anything AI generated could beat these magnificent areas of beauty.
Cameras used in the campaign weren't just the latest and greatest such as the Nikon Z9 or Nikon Z7 Mark II (in fact, they didn't appear at all) but some of the older DSLR models including a Nikon D5100, a Nikon D850 and a Nikon D610. Not only does this campaign demonstrate that nothing can replace the beauty of real photography and you don't even need to use the latest kit to create awe-inspiring magical images.
• Check out the best Nikon cameras ranging from impressive entry-level models to top-spec professional systems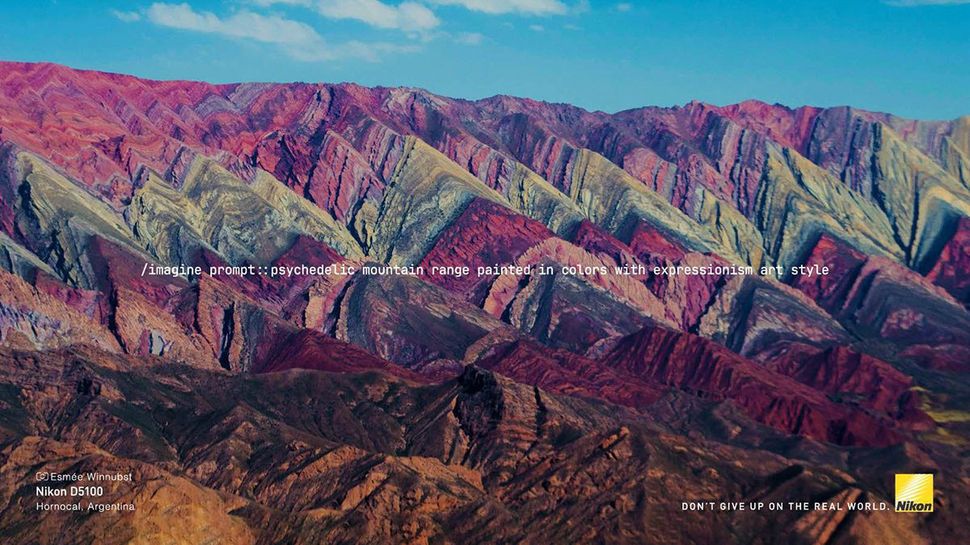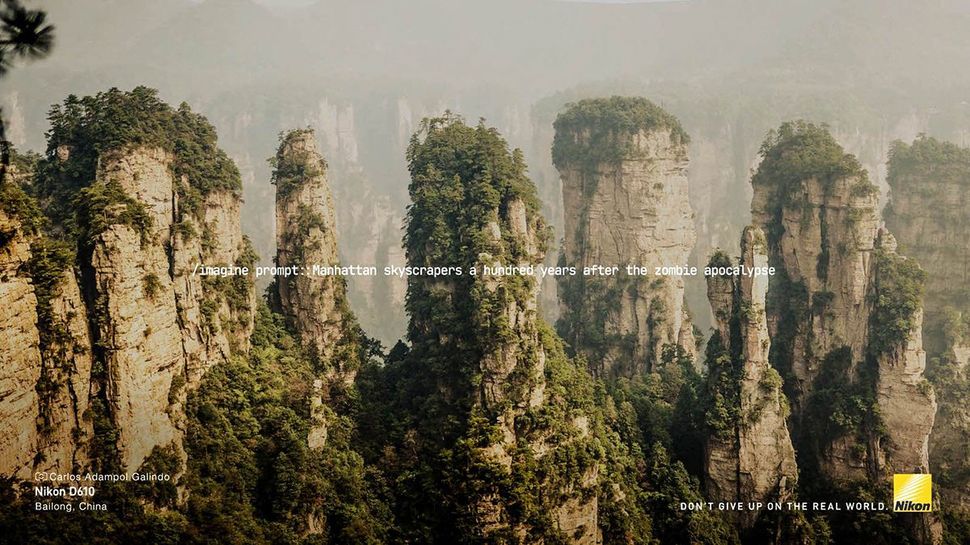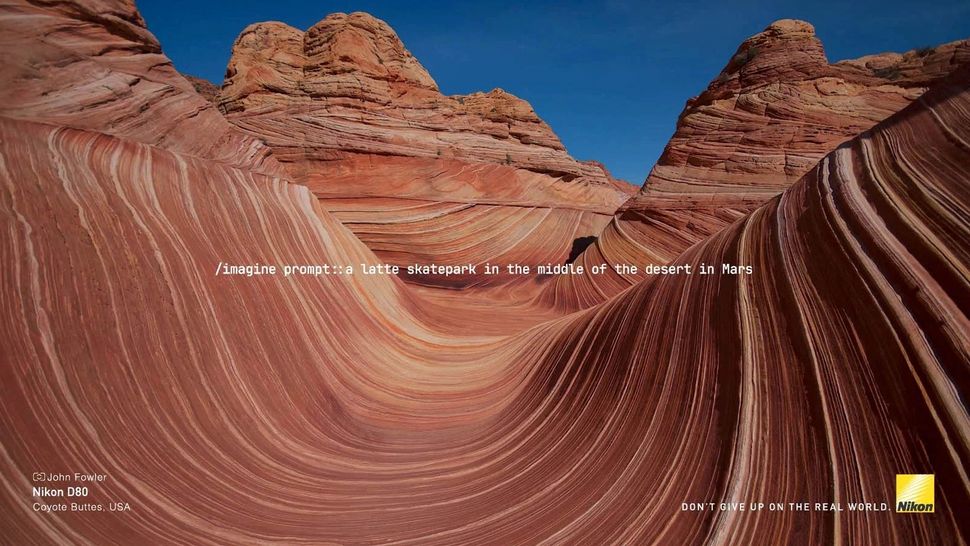 AI image generators such as Midjourney and Dall-E are meant to be able to create photo-realistic images from a simple text prompt but they still don't have that true essence of reality photography offers. Programs such as Photo AI are advertised as being a more affordable alternative to hiring a photographer by offering professional studio headshots that are created using a collection of selfies you upload. But the results aren't accurate and many of these generators are still facing issues of racial bias. Nikon's stunning images however go to show that sometimes, the beauty of real-life locations can't be replicated.
Just as you would in AI, Nikon has included an imaginative prompt that you might use if you were generating the images using AI. The cliffs in Iceland for example were accompanied by the prompt /imagine prompt: a realistic Minecraft cliff at the seashore in winter season while the Hornocal Mountains in Argentina were paired with the prompt imagine/prompt: psychedelic mountain range painted in colors with expressionism art style.
Other locations photographers include the Hallelujah Mountains (also known as the floating mountains) in the Zhangjiaje National Forest Park, China which was used as the location inspiration for the 2009 film Avatar. The Grand Canyon in the US and a lone Dragon's Blood tree in Yemen were also featured in the campaign.
As an experiment, I used the prompts Nikon came up with and inputted them into DALL·E 2 (my go-to AI image generator is Midjourney but you needed to sign up for a subscription to use the service), and as expected, the results were underwhelming. They looked computer-generated, they didn't possess the natural beauty of Nikon's photographs and the AI was unable to generate images that looked truly realistic.
So far, Nikon's genius piece of marketing has been a roaring success in Peru leading to an increase in camera sales. But this is perhaps not the most important outcome of the campaign. It once again reiterates the importance of creativity, an artistic vision, and the photographer's technical abilities to capture what AI cannot recreate - real, honest, beauty.
Why not also check out the best mirrorless cameras and browse our top picks from Nikon, Canon, Sony and more