I've bought a new camera – and it's not mirrorless.
I'm acutely aware that my second-hand (but barely used) Nikon D850 is probably the last DSLR I'll ever buy, which begs the question: why not just make the move to mirrorless and be done with it?
Well, let's not beat around the bush here. If I could justify the expenditure, I'd march right up to Nikon HQ and say: "I'll have your finest Nikon Z8, please." But other priorities, and my preference not to part with anything below my D800's 36.3MP sensor, have made the D850's still stellar spec very hard to beat if you can find a good second-hand deal.
• Now I'm looking at the best lenses for the Nikon D850
For my money, the D850 is a better camera for professional stills work than the original Nikon Z7 (largely because of its extended battery life and dual card slots) and, although I think the Nikon Z7 II is definitely the superior device, I've had to be honest with myself.
Using the cash I'd save to buy a couple of quality lenses is more valuable to me right now than an EVF, in-body image stabilization, advanced AF, faster burst speeds and so on. (As I list those mirrorless mod cons, I feel the urge to rethink my decision all over again!)
But it really is the lenses that ended up preventing a DSLR dealbreaker. When it comes to performance, F-mount vs Z-mount isn't really up for debate. Almost every single Z-mount lens will outperform its F-mount counterpart and its wide diameter and short flange distance are the main reasons why I think Nikon makes the best mirrorless cameras on the market, period.
But the F-mount is no slouch. Plenty of photographers are still very happy with their AF-S glass. And thankfully, hundreds of F-mount lenses are compatible with the FTZ Mount Adapter; pair this with a Z-series camera that has IBIS, and you can even stabilize lenses lacking VR. This backward-compatibility means I can happily purchase cut-price F-mount glass, knowing it won't become totally defunct in the near future.
I've lost count how many times somebody has sidled up to me while I've been out with my camera, only to tell me that their smartphone can take comparable or better photos. And the first – of many – reasons why they've missed the point is that an interchangeable lens camera's biggest advantage is its ability to change lenses.
If you're able to pick up a Z camera and lots of gorgeous Z-mount glass, do it – you won't regret it. But on the other hand, a tip-top camera with no lenses is the very definition of all dressed up and nowhere to go.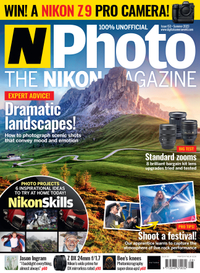 N-Photo is 100% Nikon-devoted, and 100% editorially independent. If you're a Nikon owner and want to improve your images, get the best buying advice and reviews, see some of the world's best Nikon photography, N-Photo is the title for you.
Subscribe now and save!
If you enjoyed this article, you might be interested in reading about the best Nikon Z lenses for FX and DX cameras. If you're clinging to your DSLR you can also check out the best lenses for the Nikon D850, and if you're embracing the revolution then take a look at the best lenses for the Nikon Z6 II.