Nikon has released its speaker schedule and highlights for this year's online-only Photography Show. The Japanese giant will be showcasing three stands in its own virtual hub, comprising Nikon Imaging, Nikon Sport Optics and Nikon School.
Virtual visitors will be treated to live talks with Ambassadors and photographers, as well as a hub of free educational content. They will also be able to talk to specialists about all of the latest products from Nikon, such as the full Z Series range (including the brand-new Z 5 and expanding lens line-up) and the latest additions to the Sport Optics collection. Nikon will also host after hours sessions every day for anyone wishing to receive further advice or support on Nikon equipment and photography.
In addition to its hub of free content, Nikon will be offering special promotions across its popular imaging and sport optics ranges.
The Nikon School Stage will be returning with a compelling line up of trainers, photographers and Ambassadors – all sharing an insight into their work and how Nikon equipment has empowered them to produce award-winning photography. Nikon School trainers Neil Freeman and Ricci Chera will also be on hand throughout the virtual show.
Speakers on the Nikon School Stage include:
Jasin Boland, motion picture stills photographer
Donna Crous, food photographer
Andy Parkinson, wildlife photographer
Froydis Geithus, wedding photographer
Carolyn Mendelsohn, lifestyle, fashion and portrait photographer
Helen Sloan, Game of Thrones stills photographer
Neil Freeman & Ricci Chera, Nikon School trainers
See the full Nikon School speaker schedule.
Julian Harvie, Head of Marketing at Nikon Northern Europe says: "We're delighted that The Photography Show is making a virtual comeback after such a challenging year and it's great to see our partners and fellow exhibitors adapting to the evolving landscape of online events.
He continues, "The Photography Show plays a pivotal role in celebrating and showcasing the finest talent and equipment the industry has to offer. Nikon is pleased to be a leading exhibitor once again and will bring inspiring content and talks to the show's online community this year. Moving online has allowed us to reach beyond the walls of the NEC, Birmingham and showcase talent far and wide. As a result, we will also be hosting talks and support from our team of product specialists and Ambassadors in the Nordics this year. We're delighted to announce that Swedish Ambassador and acclaimed wedding photographer Froydis Geithus will be hosting talks alongside newly appointed Ambassadors from the UK, Andy Parkinson and Donna Crous – just a few of the photographers taking to the virtual stage later this month."
Initially due to take place in March 2020, the exhibition was delayed due the outbreak of Covid-19 but has moved to a virtual space for 2020. Taking place between 20th and 21st September, ticket holders will have the opportunity to explore virtual stands from over 100 exhibitors – completely free of charge.
Register FREE for The Photography Show & The Video Show Virtual Festival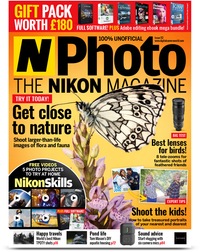 N-Photo: The Nikon Magazine is a monthly publication that's entirely dedicated to Nikon users. For the best news, reviews, projects and more, subscribe to N-Photo today!