It's unclear whether foldable phones are the future or not, but tech companies are certainly churning them out like they are. Xiaomi first showed off a prototype of a foldable Xiaomi camera phone last year, but has remained silent about its development – until now. It's recently been rumored that Xiaomi will be launched a foldable phone in the second half of 2020.
However, the foldable aspect of this new Xiaomi phone isn't the only exciting part of it. A recently published patent shows that this folding phone might also have a rotating camera as well. This means that the camera unit can rotate on the phone to face forwards or backwards, allowing the user to take advantage of all four cameras (shown on the patent) in front-facing mode as well as rear-facing.
• Read more: Best camera phone
In order to make the camera unit rotatable, Xiaomi has designed it to be the same thickness as the folded phone. Unfortunately, this does mean that when the phone is unfolded, the camera unit will be protruding out obviously compared to the slim silhouette of the rest of the phone.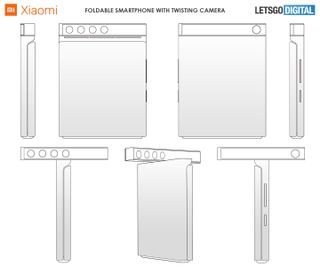 As reported by Let's Go Digital, the patent description doesn't show whether this Xiaomi phone will also have a cover display on the front of the phone. However, as Let's Go Digital argues, it would seem strange if they didn't place a screen on the front, as this is the perfect place to see incoming notifications. It would also be interesting to see whether the camera unit would be functional in the folding position as well.
This isn't the first Xiaomi phone patent that shows a rotating camera unit, so it's clear that this is an avenue of technology that the Chinese company is keen to explore further. Time will only tell if it will come to market – and if it will prove to be the revolutionary piece of tech it has the potential to be.
Read more
Best budget camera phone: these are the best cheap camera phones right now
Best iPhone for photography in 2020: from the iPhone 7 Plus to 11 Pro
Best phone cases in 2020: protect your camera phone in style