N-Photo: The Nikon Magazine's search for the best Nikon photographer of 2021 is finally over. N-Photo Photographer of the Year 2021 consisted of 12 rounds and garnered over 10,000 entries. The winners of each round were pooled together to create a final shortlist, from which the overall photographer of the year was chosen. We're therefore very pleased to announce that N-Photo's Photographer of the Year 2021 is Elena Paraskeva!
A huge congratulations to the 11 other photographers listed below, who edged out hundreds of entries to win their respective rounds.
The winning image topped the Winter round (N-Photo 132), where we praised its technical excellence and strong narrative. Elena tells us: "My entry is a portrait of my beloved godson. I specialize in portraiture and even though a contest about winter often brings images of grand landscapes, I thought a simple portrait of a child in the midst of a dark snowy night could evoke a different sentiment and really stand out.
"I'm a professional photographer, but when I was starting out, N-Photo was an essential guide for acquiring technical knowledge. So to have been chosen as Photographer of the Year is an honor and further validation. I often enter competitions just so I don't get too comfortable. Exposing yourself to the criticism of others is grounding and highly constructive."
Congratulations Elena on your very well-deserved win. We hope you enjoy your grand prize, the coveted Nikon Z6 II mirrorless camera!
How to enter N-Photo Photographer of the Year 2022
NPOTY 2022 is already underway. 12 competitions will appear throughout 2022, and the overall N-Photo Photographer of the Year 2022 – and winner of the grand prize – will be crowned in the issue that goes on sale in January 2023. You can submit your entries to the current competition category via the link in the latest issue of N-Photo: The Nikon Magazine. The very last category of the competition will be announced in the November edition (N-Photo 143). Good luck!
Each category winner will receive a £100 WhiteWall voucher and N-Photo's Photographer of the Year 2022 will win this year's grand prize, a Nikon Z fc + Z 28mm SE lens!
View the category winners of NPOTY 2021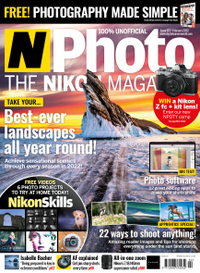 N-Photo: The Nikon Magazine is a monthly magazine that's written by Nikon enthusiasts for Nikon enthusiasts, you can be sure that all the content is 100% relevant to you! So for the best Nikon-focused news, reviews, projects and a whole lot more, subscribe to N-Photo today – with our unmissable sub deal!
Read more
The best Nikon gear of the year?
The best Nikon camera
Nikon Z fc review