The new issue of Digital Photographer is out now!
Subscribe today to get DP delivered to your door and device.
This month we have another amazing issue for you, packed full of pro techniques, advice, and insight.
Shoot incredible macro masterpieces
Macro is an ever-popular subject in Digital Photographer. Back by popular demand, Ross Hoddinott has written us another installment of our Pro Masterclass series, this time with his essential tips, techniques, and advice on how to capture mesmerizing macro shots. Learn how to control colour, light, composition, and detail at the macro-scale to reveal the natural world in glorious close-up.
Be sure to check out the other parts of the Masterclass series, in issues 266, 267 and 268, to catch up on what you've missed so far.
Travel photography made easy
As the summer season gets in full swing, it's time to plan your next adventure, at home or abroad. In our second feature, entitled Capture the Adventure, our Technique Editor, Kim explains how to look for amazing subjects while on the move, how to compose these for maximum drama, and even how to process your shots with creative flair. Discover which lenses to pack, how to plan a photo trip, and, with help from pro travel shooter, Luke Miller, how to tell a story in pictures.
Lighting like the movies
Cinema is a constant source of inspiration for photographers, with each time period offering a unique style and artistic aesthetic. In our Creative Project this month, London-based portrait photographer Jake Kehar Gill demonstrates how to introduce some theatrical lighting into a black and white portrait for an eye-catching and emotive study. Learn how to quickly and easily capture striking light with minimal equipment.
Fantastic filter holders
Changing faces
Get your copy of DP Issue 269 today!
Get a digital copy instantly on your digital device
Where to find Digital Photographer
Plus we've got the usual tutorials, interviews, insight and opinion, from a range of experienced pro photographers from across the industry.
Don't miss out on all of this essential professional-level advice. Get your copy of Digital Photographer now.
Why not Subscribe for a print copy or you can read us on your mobile device with a digital subscription.
You can get your copy of Digital Photographer in stores - but if you can't get out, then order a copy direct from us, either in print or digital form.
For printed back issues go to Magazines Direct
For digital editions of the magazine, you have a variety of options available:
Apple app (for iPhone and iPad)
PocketMags app (multi-platform app for Android and other devices)
Zinio app (multi-platform app for desktop and smartphone)
Readly (all-you-can-eat digital magazine subscription service)
Connect with us
Find us on Facebook and Twitter and subscribe to Digital Photographer, to ensure you never miss an issue!
Digital Photographer on Facebook
Digital Photographer on Instagram
Digital Photographer on Twitter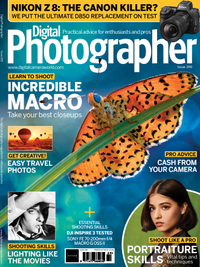 Digital Photographer is a monthly magazine, and the kitbag essential for pros, enthusiasts and amateurs alike!
Inside, you'll find practical guides, shooting tips and techniques from working photographers, plus all the latest industry news.
Read more:
Essential exposure technique: settings for seamless backgrounds
Photo therapy: the art of patience - why it's worth waiting!
Adapt and conquer! Learn to use lens adaptors the right way
Lighthouse photography: learn to compose images of very tall subjects