Logitech has introduced its latest wireless mouse that is designed for creatives who want a combination of performance and portability. A key feature of the Logitech MX Anywhere 3 its newly-developed scroll wheel that has a free spin mode that can allow you to move at upto 1000 lines per second – making it a perfect choice for coders or those who spend their lives looking at spreadsheets.
But with a simple press of a button, the wheel can be switch to a ratchet movement, that allows you to feel each line as you move up and down a document or window. Thanks to a downloadable customization Options, you can even control the feel of this MagSpeed ratchet as you scroll.
Thanks to the buttons on the side of the mouse, you can also use the wheel to scroll vertically – which will prove particularly useful for video editors trying to find the relevant cut or scene on their editing timeline.
The side buttons have different functions depending on the application you are using them with - they can, for instance, allow you to instantly mute and stop the video in a Zoom meeting.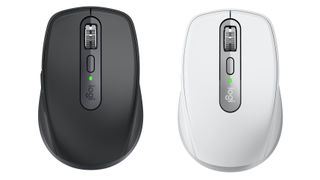 For those working on the move, or in places that that are not set up as a permanent office, the MX Anywhere 3 is capable of working on almost any surface – and impressively even works on glass.
The rechargeable battery in the mouse claims an impressive 70-day running time, and is constructed from stainless steel, with silicon side grips.
The Windows version is available in grey, rose or slate and is supplied with a Bluetooth dongle. The MX Anywhere 3 for Mac is available only in off-white, and does not come with the dongle - but is designed to work with both iPads and Macbooks.
Both versions of the mouse will retail for $79.99 / £79.99.
Read more
Best mouse for photo and video editing
The best photo-editing laptops
The best budget laptops
The best portable SSDs
The best desktop computers for photo editing
The best monitors for photographers