Samsung launches Galaxy S23: camera specs, pricing and availability
Samsung has announced the Galaxy S23 Series including the S23 Ultra with a 200MP camera sensor!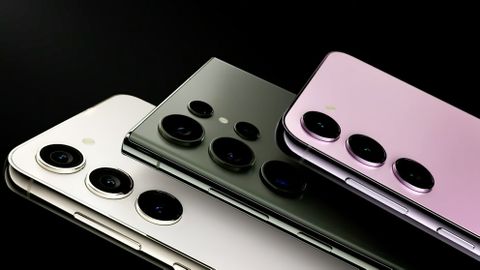 (Image: © Samsung)
Samsung has launched the Galaxy S23 smartphone lineup, including the flagship Galaxy S23 Ultra with a mega 200MP sensor camera and some impressive "nightography" features.
At Samsung Unpacked 2023, Samsung also launched its Galaxy Book3 Pro laptop lineup – the Book3 Ultra, Book3 Pro 360, and Book3 Pro.
We've listed the camera specs, release date, availability and everything you need to know from Samsung Unpacked here. If you missed the live event, you can watch it back on the YouTube link below.
Check out our Samsung Galaxy S23 Ultra hands-on review for first impressions on this impressive new camera phone – surely to become the best Samsung phone ever.
Samsung Galaxy S23: Order now
The good news is: You can pre-order the Galaxy S23 series right now at Samsung US and get a free storage update, plus access to exclusive graphite and lime color options, although they won't arrive until February 28.
The entry-level S23 is now available to preorder at Amazon and Best Buy in the US. Currently, each retailer will give you a credit/gift card for a later purchase. Or you can wait and get the Galaxy S23 from major retailers and carriers on February 17.
The Galaxy S23 starts at $799, the Galaxy S23 Plus at $999, and Galaxy S23 Ultra at $1,199.
If you're in Australia, you can also pre-order directly from Samsung AU and get up to AU$1,074 in extra value, which includes vouchers and trade-in exchanges. Prices start at AU$1,349 for the S23, AU$1,649 for the S23 Plus and AU$1,949 for the S23 Ultra.
Compare all the key camera specs below.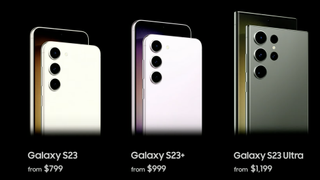 Swipe to scroll horizontally
Samsung Galaxy S23 Ultra vs S23+ vs S23

| Header Cell - Column 0 | Galaxy S23 Ultra | Galaxy S23+ | Galaxy S23 |
| --- | --- | --- | --- |
| Dimensions | 78.1 X 163.4 X 8.9mm | 70.9 x 146.3 x 7.6mm | 76.2 x 157.8 x 7.6mm |
| Screen size | 6.8-inch QHD+ Edge | 6.6-inch FHD+ | 6.1-inch FHD+ |
| CPU | Snapdragon 8 Gen 2 | Snapdragon 8 Gen 2 | Snapdragon 8 Gen 2 |
| Rear cameras | 200MP main, 12MP ultrawide, 10MP telephoto (3x zoom), 10MP telephoto (10x zoom) | 50MP main, 12MP ultrawide, 10MP telephoto (3x zoom) | 50MP main, 12MP ultrawide, 10MP telephoto (3x zoom) |
| Front camera | 12MP | 12MP | 12MP |
| Storage | 256GB, 512GB, 1TB | 128GB, 256GB | 128GB, 256GB |
| Colors | Green, Phantom Black, Lavender, Cream (others exclusive to Samsung.com) | Green, Phantom Black, Lavender, Cream (others exclusive to Samsung.com) | Green, Phantom Black, Lavender, Cream (others exclusive to Samsung.com) |
| Price | From $999/£1249/AU$1949 (256GB) | From $999/£1049/AU$1649 (256GB) | From $799/£849/AU$1349 (128GB) |
Trust our Galaxy coverage
Trust our Galaxy coverage
As Digital Camera World's Managing Editor, and the previous Editor of the global magazine Digital Photographer, Lauren has been covering the photography and tech industry – including the latest smartphone cameras – for over ten years.
Official livestream
---
Samsung Galaxy Unpacked: What happened
Samsung Galaxy S23 Series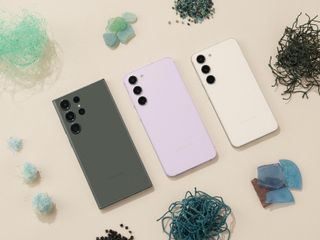 Samsung Galaxy S23 Ultra
The flagship Galaxy S23 Ultra features a 200MP main camera, with an Adaptive Pixel sensor that uses pixel binning to allow high-resolution processing. This is an increase of almost double from the primary sensor on the S22 Ultra, which by comparison is 108MP.
The camera uses quad-pixel autofocus, using every pixel for focus, which Samsung claims are it's fastest and most accurate system yet.
Samsung Galaxy S23+ & S23
The S23+ and S23 share the same cameras, with both featuring a 50MP main wide camera, as well as an ultra-wide with a 12MP sensor, and a 10MP sensor behind a 3x zoom lens.
The S23+ and S23 have been upgraded to the same 12MP front-facing camera shared with the S23 Ultra –a Super HDR selfie camera that goes from 30fps to 60fps. Another first is the Expert RAW app, which Samsung says enables DSLR-style image shooting and editing in RAW and JPEG file formats. The Galaxy camera has a slightly new design, thanks to the removal of the contoured housing.

See best Samsung Galaxy S23 Ultra cases • Best Samsung Galaxy S23 Plus cases
---
Refresh
Morning! At least, it is here in the UK. Around the world, the Samsung Galaxy S23 series is now just eight hours away. The exciting phones are due to be unveiled during the Unpacked event later today, which starts at 10 AM PST / 6 PM UTC.
Despite still getting not official word from Samsung that it's the Galaxy S23 launch, little signs and clues are popping up all over the world (and therefore the internet)!
#GalaxyS23Series pre-order ad just appear, ahead of #SamsungUnpacked event tonight.... pic.twitter.com/aL0ecgRH2wFebruary 1, 2023
Samsung Unpacked - sustainability
In the last two camera phone launches from major manufacturers (the Apple iPhone 14 series and Google Pixel 7 series) we've seen a big focus on sustainability.
Making environmentally-friendly devices is incredibly important for today's consumers – particularly those who trade in their devices more often.
It looks like we could see Samsung covering its own sustainability mission in today's launch.
Sustainability is at the heart ❤️ of everything we do. Join us on a journey to a brighter future by making small changes every day. Don't miss #SamsungUnpacked on February 1, 2023, to find out more! #GalaxyxBTSLearn more: https://t.co/DIakqCsiiZ pic.twitter.com/mPO0JeM7RDJanuary 31, 2023
Will BTS be making an appearance this time, as they did at last year's Galaxy Z Fold 4 and Z Flip 4 launch? Asking for a friend...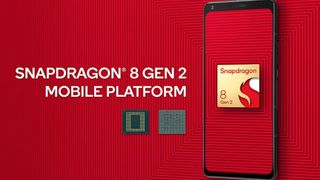 Let's talk about chips for a moment (and not the tasty kind). If you're even a little bit into smartphone tech, you'll know that the chipset inside controls everything going on – processing speed, display, cameras. Rumor has it that even the entry-level/vanilla Galaxy S23 will have a new Snapdragon chipset set to improve smartphone photography, the Snapdragon 8 Gen 2.
The chip features what Qualcomm is calling Snapdragon Sight - the first Cognitive ISP (image signal processor), which the company says "defines a new era of professional quality camera experiences."
With Snapdragon Sight, the new chip automatically enhances photos and videos in real time with semantic segmentation. This is done using an AI neural network that the company explains makes the camera contextually aware of faces, facial features, hair, clothes, skies, etcetera – and is then able to optimize individually, essentially giving all details customized image tuning. Pretty cool!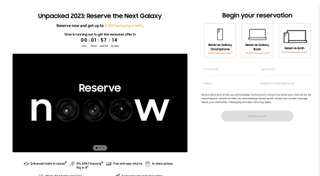 So we've talked a lot about Samsung phones, but today Samsung is also set to unveil a new Galaxy Book laptop (or it could be several). We know this because you can already reserve your preorders from the Samsung website!

Just an hour and a half to go, gang!
The official tag line of this launch event is "Epic nights are coming" so we're expecting to see plenty of features for low light shooting and even astrophotography – finally, will we get a Galaxy phone that lives up to its name?
The Samsung Galaxy Unpacked February 2023: Official Livestream landing page has changed to LIVE status, and we're seeing a loop of the original trailer being played in the meantime.
It also features a pretty funky little music clip. Reminiscent of 00's video game menus, if you ask me – enough to drive you mad after ten minutes, but here we are.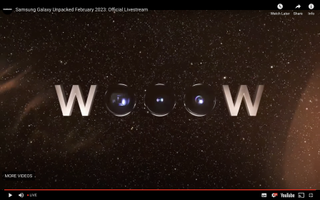 3 minutes to go, and over 95,000 people are currently watching the livestream. Let's see how big that number gets when the event starts!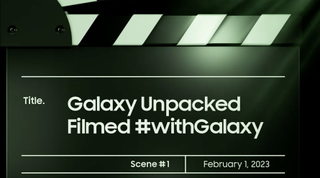 "I can feel the energy in the room. It feels good to be back in person".
Samsung says it is pushed to build a brand you can be proud of, with technology that is great right now, that is still great years from now – with less impact on our planet.
"The Galaxy S23 has redefined what a smartphone can deliver"