Samsung Galaxy Unpacked 2022 – Z Fold 4 and Z Flip 4 camera phones launched
Samsung has launched two new smartphones – the Galaxy Z Fold 4 and Z Flip 4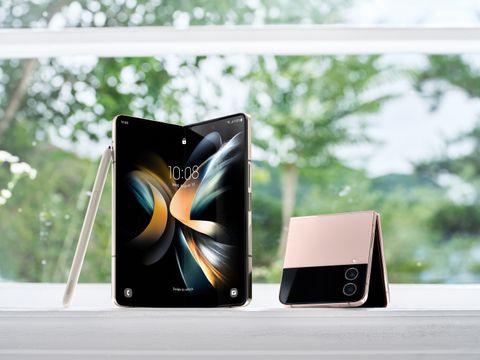 (Image: © Samsung)
Samsung's Galaxy Unpacked 2022 live product launch event is over, but we've got plenty of coverage for you to explore. If you missed the event, why not scroll through to see what you missed, and check out the news report below.
Samsung has launched the Galaxy Z Fold 4 and Z Flip 4.
• This is the best Samsung phone
• These are the best flip and fold phones
• Why Samsung Galaxy Z Fold 4 is THE best phone for photographers
Trust our galaxy coverage
Trust our galaxy coverage
As Digital Camera World's Managing Editor, and the previous Editor of the global magazine Digital Photographer, Lauren has been covering the photography and tech industry – including the latest smartphone cameras – for over ten years. Although she's currently an iPhone user, Lauren has also played with Samsung Galaxy, Google Pixel and way back when, Sony Xperia, Sony Ericsson and even Blackberry devices!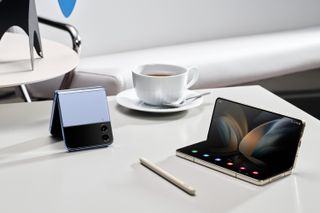 While you're here, you might also like to know what the Samsung Galaxy Z Fold 4 and Flip 4 tell us about the future of camera phones – according to an expert.
Refresh
Samsung Galaxy Z Flip 4: what we might see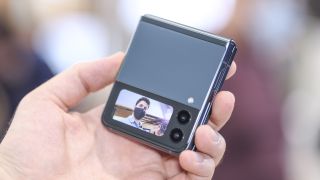 We think that the Samsung Galaxy Z Flip 4 could be one of two phones that Samsung "unpacks" at the live Unpacked event, and it feels even more likely because there's an image of a flip phone in the teaser video.
It would make sense for this phone to build on the specs of the Galaxy Z Flip 3 released in 2021, which was a landmark smartphone at the time and cost less than the top-tier iPhone. Our reviewer said that the phone felt solid despite its foldable mechanism, although they wanted a little more performance from the cameras.
It's not surprising that the camera specs were less impressive on this model than those in Samsung's S line of smartphones, which are more expensive and deliberately more premium.
However, in terms of camera specs, we'd love to see the sensor size of the Flip 3's secondary camera bumped up from 1.4-micron pixels on the potential Flip 4. The Flip 3 has an excellent 1.9-inch cover screen that can act as a live viewfinder, and it would be amazing if we saw that screen increase in size or resolution.
Samsung Galaxy Z Fold 4: what we expect to see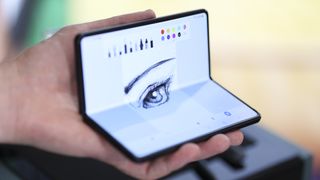 The next smartphone that we believe we might see is the Samsung Galaxy Z Fold 4 – which, instead of flipping up with a clamshell-style design like the Flip series, will open up like a book.
This will build on the Galaxy Z Fold 3, which showcased the first under-display selfie camera on a mainstream smartphone. With the Z Fold 4, we probably won't see Samsung overhauling the design, but there could (we hope) be a few upgrades to the camera specs.
We could see a battle of the foldable phones commence, as smartphone manufacturer Xiaomi has confirmed that the Xiaomi Mix Fold 2 will be launched on August 11 – just one day after the Galaxy Unpacked event.
The current line-up of Samsung Galaxy camera phones

If you're not familiar with the Samsung Galaxy camera phone line-up, then our guide to the best Samsung phone should get you up to speed quickly.
Of course, there's no easy answer to the question: what's the best Samsung phone? Like all purchases, it depends on what you're looking for, and how much money you've got to spent.
If you want a smartphone with a high-spec camera that rival the latest iPhone, then you're well catered for with the Galaxy S22 range. If you're interested in the best fold phones, you don't have to wait for Samsung to potentially launch the Galaxy Z Fold 4: there's already the Samsung Galaxy Z Fold3 5G and the Samsung Galaxy Z Flip3 5G, and both are worth checking out.
Morning folks! It's less than 7 hours until the Galaxy Unpacked event begins live on the Samsung website. They're giving nothing more away than what we already know from the trailer, but it's likely to be an exciting party for the Flip & Fold phones.
Next Galaxy, greater than Phones Now
Samsung's other Galaxy trailer video gives us some hints that the cameras on whatever phones are announced could be improved from previous iterations. What we know is that the Next Galaxy is greater than (and the flip phone has cleverly been used to create a greater than sign) phones now. Is that all phones now? We're not sure, but it'll be interesting to see.
History of the Galaxy Fold series: a shaky start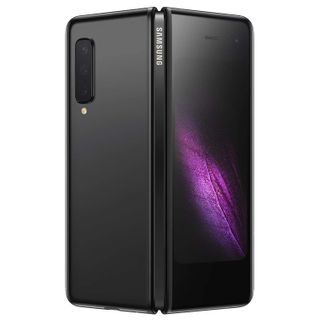 Samsung is now arguably the reigning champion when it comes to folding phones – both in terms of specs, sales and the availability of products.
No other manufacturer really comes close, but the Galaxy Fold wasn't an immediate success. Launched in 2019 with the slogan "The Future Unfolds," Samsung actually had to delay the release of the model because of some pre-release criticism (including problems with its durability).
Three years on, and the Galaxy Fold series feels like smartphone for the masses, rather than a device for early tech adopters wanting to make a jazzy statement.
That said, I'm no phone expert, although I have seen and used many of the latest models as they've passed through the doors of our lab.
On that note, if you're wondering why I'm putting together a blog on phones if I'm not a phone expert, it's because I'm here for the people – and, as I don't have any inside intel, I can't spoil the surprise early!
The Next Galaxy Is Almost Here – unpacked In 4 hours!
Excited yet? You should be. To find out everything you can beforehand, why not immerse yourself in Samsung's Newsroom, and Samsung's YouTube channel.
This is what Evan Blass (via 91 mobiles) thinks the Galaxy Z Fold4 will look like, citing leaked press shots.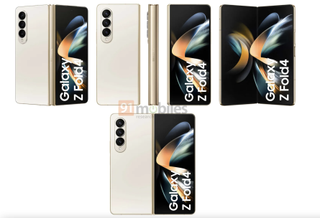 While you're waiting for the #SaumsungUnpacked event (and I've gone to make coffee) check out Samsung's "exclusive invite" to the Samsung Unpacked Experience. Given that they've just shared it on the internet I'm not sure how exclusive it could be, but sssh... just head to the tweet and find out for yourself!
For the moment it looks like fans in London and New York are covered, but more territories could be added in later.
Hello LDN 🇬🇧 Here's an exclusive invite to the Samsung Unpacked Experience (where you may even get a special surprise too~💜🎁😉)📍: 55 Regent St., London🗓: From 11-31 Aug, Mon-Fri: 10:00-20:00, Sat: 11:00-20:00, Sun: 12:00-18:00#GalaxyxBTS #SamsungUnpacked pic.twitter.com/TcHExXTwCMAugust 10, 2022
What's up NYC 🇺🇸 You're invited to the Samsung Unpacked Experience! 📩Experience the best of #GalaxyxBTS 💜 (with a special surprise! 💜🎁😉)📍: 60 10th Ave., New York🗓: From 11-31 Aug, Mon-Thu: 10:00-20:00, Fri-Sat: 10:00-21:00, Sun: 11:00-20:00 #SamsungUnpacked pic.twitter.com/C1OEJOiDFWAugust 10, 2022
K-pop band BTS to perform after the Galaxy Unpacked event
Side note – that has little do with cameras (sorry, not sorry) but does relate to the Samsung Unpacked event: it turns out there's also going to be a special performance from K-pop supergroup BTS who are performing a new single 'Yet To Come' with Samsung Galaxy after the event at Times Square at 4PM EST! Only in June the band were said to be taking a break so no doubt any superfans will be glad to see them back already. Clever move, Samsung. Build that hype.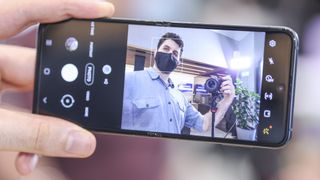 Okay, enough boyband chat. Let's talk smartphone cameras – Samsung smartphone cameras. Samsung has traditionally featured some of the highest megapixels of the pack – if we're looking at the flagship Galaxy S22 family, that is.
The Galaxy S22 Ultra features a whopping 108-megapixel sensor at the front, plus a 40-megapixel front-facing camera. In contrast, the Flip 3 and Fold 3 only features 12MP main cameras. The rumors flying around suggest that the Galaxy Z Flip 4 could be getting a 50MP camera, but we think that Samsung will make a more modest upgrade than this. After all, if they're the only real contender in the market right now, then they don't need to compete will silly specs just yet.
As we know from DSLR and mirrorless cameras, resolution isn't everything when it comes to creating a stunning photos. And as my colleague recently said, maybe we should stop measuring resolution with megapixels!
Digital Camera World's Editor on phone camera megapixels
If the latest Galaxy Z Fold 4 and Flip 4 do still feature the same 12MP cameras, will that actually matter? Our website editor James Artauis has just written a piece on why – even though his iPhone 12 camera is just 12MP, it feels good enough. After all, how many of us are making massive prints from our smartphones?
I've included an excerpt below – food for thought while we wait!
"It's crazy to me. My iPhone 13 camera megapixels amount to just 12MP – a resolution that seems positively paltry on paper. And with 48MP and even 108MP phones now commonplace, it makes my phone feel a bit feeble."
Is that really the case, though? Because whenever I use other handsets – even the best camera phones like the Samsung Galaxy S22 Ultra – I find that the images I take on my iPhone are almost always better. The iPhone 13 camera megapixels, limited though they may be, simply produce superior photographs.
That's just my personal perspective, of course. And it only applies to the rear camera; I'm not going to pretend that the 8MP selfie camera is anything to write home about. However, in a world where the megapixel wars are still raging – and where rumors are swirling that the iPhone 14 Pro could have a 48MP primary camera – more doesn't necessarily mean better (just more expensive)."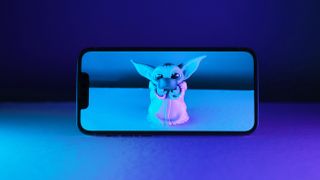 THE LIVESTREAM LINK IS HERE, FOLKS
Woah, sorry for the capital letters. A lot of coffee has been consumed at DCW HQ, as we get ready for lift-off on the Samsung Galaxy Unpacked August 2022 Official Livestream.
Watch the official Livestream on the Samsung YouTube channel.
At the moment you'll see a roundup of all the previous annual Galaxy Unpacked sessions leading to 2022 – with some relaxing music to accompany. Sit back, grab some snacks, and bed in for the launch.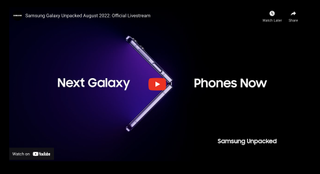 And we're off! We're seeing a disclaimer pop up (all standard stuff) with T's and C's from Samsung! Let's get to the good stuff shall we? Is it a bad time to mention that I need a bathroom break?!
100,000 people watching (and counting) on the official YouTube Livestream.
And we're erm, watching some intriguing acting around a table in France. Why? We're not sure! But the phone is greater than before! And as usual, cue some action dance music to get us into the mood, proper!
TM Roh (Samsung's boss) is now giving us an opening speech, along with a brief history on the technology that's made the Samsung Galaxy family what it is today.
Last year, more than 10 million people have owned a foldable!
Just three years ago, this category didn't even exist! Crikey.
Here they are: the fourth generation of Samsung Galaxy foldables.
The Samsung Galaxy Z Flip 4 helps you to capture life from different perspectives and is said to completely change the way you use your camera. Apparently it's like having a tripod and a camera, all in one! Do you agree?
The camera comes with brighter sensors and a combined pixel size than the previous Pixel 3 model.
WOW. We're seeing a partnership between Meta (instagram) and Samsung.
Here's Adam Mosseri, the head of instagram, to tell us more. Let's be honest... instagram probably needs some good PR for photographers and content creators, but we're not convinced...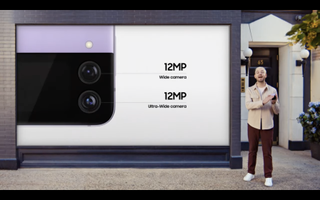 One of the major benefits of the Samsung Galaxy Z Flip 4 is the second screen on the front of the flip model. Samsung is saying that shutting the flip phone down is effectively telling your friends that you're more engaged and ready to switch off, and yet... Samsung is also telling us that you can access everything you need to on the front screen without opening the phone. A bit of confused messaging?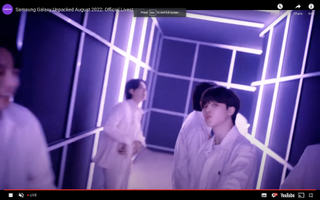 Yay! BTS are here. For a little teaser of their new single the "best is yet to come" which is what Samsung also wants to let us know about the Unpacked event.
The Galaxy Z Flip 4 is official here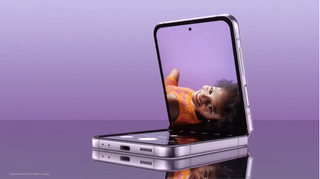 Key features of the Galaxy Z Flip 4:
• 12MP ultra-wide camera with an f/2.2 aperture, and a 10MP punch hole selfie
• Main camera's sensor gets a size boost, pixels climbing from 1.4 to 1.8 microns.
• You can potentially steady the Flip 4 more easily than a traditional phone.
• Preview window lets you use the primary camera for selfies, video capture
The Flip 4 is designed to be unique, says Samsung. It's offering a Bespoke program for customers to customize the Flip 4 with a few different color combos.
Samsung unveils Galaxy Buds 2 Pro and the Galaxy Watch 5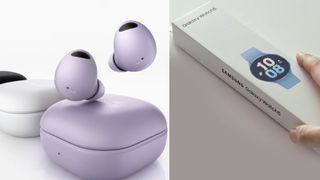 Samsung Unpacked is currently unveiling the Galaxy Buds 2 Pro and the Galaxy Watch 5. Okay, so we're not quite as interested in this bit of the launch, but we'll summarize for you!
Galaxy Buds 2 Pro
• Support 24-bit audio for richer sound.
• Voice detect technology
• New, more rounded design good for in-ear comfort
• Can pair will all Samsung devices
Galaxy Watch 5
• Comes with new infrared temperature sensor
• Comes in 5 snazzy colors
• "Defense-grade" protection to keep your info safe in Samsung Knox vault
Packaging of new foldables reduced by 58%
Samsung says it has set clear goals for the environment, and it has a 2025 roadmap to help it achieve its eco-friendly targets, as Climate Action has previously reported on.
It says that the packaging of its new foldables will be reduced by 58%, among other impressive claims.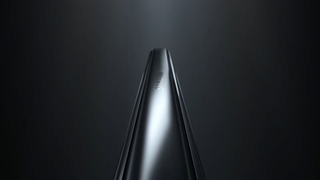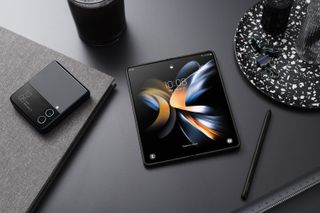 Samsung Galaxy Z Fold 4 unveiled
This is the smartphone that we've been waiting for for days, even months! Samsung says that it's the lightest and strongest Fold ever.
Samsung Galaxy Z Fold 4 key features:
• Slim and newly-designed hinge for reductions in weight and size
• Fold 4's main camera is a 50MP sensor matched with an f/1.8, 23mm lens.
• The 1/1.56-inch sensor larger than Pixel 3's 1/1.76-inch sensor
• The new 10MP telephoto camera features a 1/3.94-inch sensor and OIS, and there's a 12MP ultra-wide camera too.
• Two punch hole selfie cameras, a 10MP option on the cover display, and an in-display 4MP selfie camera.
A quick hello from Google to talk wearable updates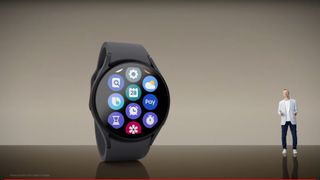 Samsung is really pulling out all the stops for its Unpacked event. Earlier we heard from instagram's Adam Mosseri, and now Bjorn Kilburn from Google is here to tell us how Android updates will bring improvements to the next generation of werables, notably here, the Galaxy Watch 5 AND Galaxy Watch 5 pro.

Pre-orders on the Galaxy Z Fold 4 and Z Flip 4 start today, with availability being current estimated for August 26th! Head to the Samsung website to get in before the masses and secure your handset.
When you reserve the next Galaxy smartphone, smartwatch or buds with Samsung, you'll get Samsung Credit.
We'll be bringing you the best deals on the Samsung Galaxy Z Flip 4 and Fold 4 as soon as we have them, but don't forget to check out the Flip 3 and Fold 3 too.