An exciting new line of fast glass has been confirmed by Laowa, which is sure to thrill all you speed demons out there: Argus will be a lineup of superfast f/0.95 lenses.
A number of manufacturers already produce f/0.95 lenses, from the affordable Mitakon Speedmaster to the unaffordable Nikon Nikkor Z 58mm f/0.95 S Noct. However, rather than just a single lightning-speed lens, Argus will be a full series of f/0.95 optics.
• Read more: The 7 fastest lenses in 2020
Right now, information is very thin on the ground as the lenses are still early in the design phase – indeed, we spoke to Argus and the manufacturer isn't even ready to announce which mount(s) or focal length(s) will be released, as it is so early in the design process.
"The Argus will be a new line of f/0.95 lenses," Laowa told us. "Right now there's no info about which focal length will be created. But our goal is to create a 0.95 that is good optical quality and relatively affordable. It should be usable when wide open, super sharp when stop down."
The comment about pricing is key; Laowa is known not just for producing highly exotic optics, but also affordable ones. So we won't be seeing $10,000 monsters to compete with the Nocts and Noctiluxes of this world.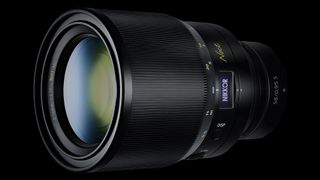 Since the company manufactures lenses for both crop sensor and full-frame cameras, our instinct suggests that Argus could very well appear for smaller Micro Four Thirds and APS-C sensors, which inherently require less glass to be produced and precision-machined.
The comment about optical quality is also crucial: the company wants Argus lenses to be usable, in real terms, wide open at f/0.95. While the Nikkor Noct performs phenomenally at f/0.95, other superfast lenses like the Ibelux and even the Voigtländers are squishy and soft wide open.
Still, Laowa is confident that a good price:performance ratio can be achieved – and doesn't necessarily see the design challenges with Argus being any more complicated than the optical formulae in its other extreme lenses.
"Laowa is no stranger to unique and extreme spec, so we do have confidence that we can execute it. I don't think it's easy to compare which one is more complicated, as most of our lenses has its own unique aspect that our design team have to deal with. But yes, it is a great challenge as how to get a usable 0.95 [while] at the same time balancing the cost is very difficult."
What do you think – do you own any superfast glass, would you use these lenses more for their low light capabilities or creamy depth of field, or is the whole f/.095 thing just a gimmick? Have your say in the DCW forums.
Read more:
The 7 fastest lenses in 2020 – break the speed limit with glass as fast as f/0.75
Nikon Nikkor Z 58mm f/0.95 Noct review
Laowa 4mm f/2.8 Fisheye review