Lomography are known for their unusual products, but they may have just outdone themselves this time. They've recently unveiled two new exciting items - a cardboard medium format camera called LomoMod No.1 and a lens filled with liquid (yes, you read that right) called Sutton's Liquid-Filled Lens.
The LomoMod No. 1 is a new addition to the company's popular range of DIY cameras, built from sustainable cardboard. However, the most eye-catching announcement, and the product which is likely to spark the greatest discussion, is the Sutton's Liquid-filled lens that comes with the LomoMod No.1.
Read more: Lensbaby and Lomo lenses
Based on a snow globe-inspired design by Thomas Sutton (1819 -1875) the lens structure features a void that can be filled with a choice of liquids to create special effects. Sound whacky? Well, we can't disagree. However, apparently experimenting with different liquids will produce varied results. This means you can use food dye, tea, or even tequila to experiment with an almost unlimited scope of imaging possibilities.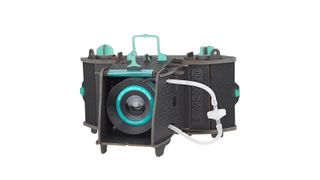 Thomas Sutton was originally interested in the focus effect of the snow-globe. He was intrigued by the way a water-filled sphere could project a wide-angle image and decided to create what is considered one of the rarest lenses in photographic history. Sutton's camera setup consisted of little more than a light-tight box and basic flap-type wooden shutter, yet it allowed a panoramic image to be created without stitching multiple images, in a product that was usable almost out-of-the-box.
Lomography appear to have taken Sutton's concept to brand new heights. While we're not saying you should replace your ordinary kit with these unusual products, the LomoMod No. 1 and Sutton's Liquid-Filled Lens are the perfect combination to push you out of your comfort zone and open up a whole new world of artistic potential.
Preorder your LomoMod No. 1 and Sutton's Liquid-Filled Lens from the Lomography website.
Read more
Best Lomography camera: the top Lomo cameras for analog film fans
Best instant camera in 2019: perfect for party season!
Lomography returns to Kickstarter with color negative film