Amazon's sales bonanza is winding down, but some of the best Prime Day camera deals are still alive and kicking.
As a huge Polaroid geek, this is one of the most unmissable bargains I've seen: the brilliant Polaroid Now+ is now just $99.99, a huge $50 saving.
If you've got a spare hundred bucks and you're wondering what to spend it on as Prime Day draws to a close, you won't be disappointed with this!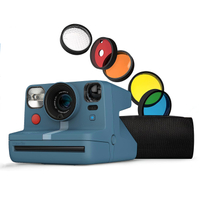 Polaroid Now+ | was $149.99 | now $99.99
Save $50 Polaroid's flagship camera is its most advanced ever, with everything from light painting to manual mode to physical lens filters. It's the ultimate instant camera at its best price ever!
For my money, the Polaroid Now+ is the best instant camera on the market right now. An upgraded version of the base Polaroid Now, it offers physical extras such as a tripod mount as well as lens filters (along with a lens cap!) for in-camera creative effects.
But it comes into its own when used with the Polaroid app, which unlocks advanced features such as light painting, double exposures, aperture priority, portrait mode, self-timer and manual mode.
This is the one instant camera to rule them all!
Check out our full Polaroid Now+ review, along with our Polaroid Now review to see how they compare. And don't forget to check what type of instant film you need!