Getty has long been one of the go-to stock image databases for many needing a photograph of a place or event. But now users will be able to use Getty's extensive library of human-made photographs to create an AI subject from imagination.
Say you want a desert dessert scene, featuring an astronaut using the new Fujifilm GFX 100 II to take a portrait of a pig with wings – Getty's new Generative AI can provide.
• Forget AI and take a look at the best stock photo sites
The reason that this news comes as a slight shock is Getty's recent history surrounding AI programs. The company currently has several open lawsuits involving generative AI programs, asking for them to be banned – the issue that Getty has with these developers being how their AI was trained.
Many AI-generating programs were trained to absorb data from all images on the internet, regardless of copyright and usage policies. Although the software would not generate any replica of copyrighted material, it still used copyrighted material as its foundation.
This is the base of the lawsuits that Getty has pending with other AI companies, as protected stock photographs were used in data training sets with no commercial licensing. This issue is also apparent on a smaller scale, as I have heard of independent artists who have had their work or style used without credit, and this presents a real ethical problem and cause for discussion.
The difference with Getty's AI program, Generative AI, is that all the images used in its training are taken from Getty's own library – which it has collected over many years of commercially licensing 'human-made' photographs. When an image is used in the training or generation of an AI image, Getty states that the creator will benefit from the licensing just as stock photography would.
CEO Craig Peters says that this new service is "commercially viable" for business clients and "wasn't trained on the open internet with stolen imagery". Operating with the same model as Getty's stock imagery, businesses will not need to worry that later on their image will be struck with a copyright claim from an unaware artist.
Whether you are for or against the use of AI programs, they are now ever-present in the art world. Much like the early days of digital manipulation and Photoshop, AI has met some resistance. But instead of seeing AI as a competitor to human-made art, it may be more accurate to view it as just another tool – one that may produce beautiful art, but which also needs to operate fairly and ethically, protecting creator rights – and it seems Getty is setting a precedent.
Generative AI also protects known people from being subject to deepfakes, and being placed in generated images ( no Pope in a fashion-branded coat, for example). I think AI image-generating companies can learn a lot from how Getty has approached its program, and I hope this sets a standard moving forward.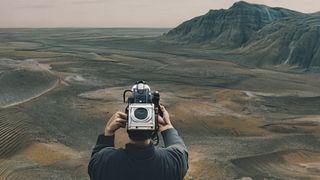 If you're interested in generative AI, take a look at the best AI image generators and read our article on what is prompt-ography?