Fan of the vintage look, but not a fan of the price that comes with iconic vintage camera lenses?
If think the best mirrorless camera and the best cinema cameras produce images that are overly sharp, then you might like to hear that Module 8, in partnership with Moment, has produced The Tuner.
The Tuner is a revolutionary optical device that enables standard lenses and mirrorless digital cameras to recreate the look and feel of some iconic vintage glass, such as the famous Super Baltars (used in movies like The Godfather) and Canon K-35s (seen in films such as Aliens).
Its patent-pending technology, Vari-Look, enables The Tuner to do something never done before: emulate classic lenses and give you manual control to adjust the strength of their look in real time. To see this effect in action, you can see the sample footage below:
Module 8 is founded by Iain Neil and Mike Thomas, in collaboration with Moment – two optical nerds and a mechanical engineer who love a good laugh and great optical products.
Not just any product, either; the kind of optical system that is a step function change to something totally new. "Having spent our careers designing these optical products for everyone else, we finally decided to embark on our own journey." Module 8 is launching three Tuners, each with its own distinct look.
The Tuner is powered by Iain Neil's Vari-Tune technology, making this the first optical product that enables you to manually change the strength of the look. You'll no longer need to select a fixed-look vintage lens; instead you'll be able to select the look you like and then manually adjust from min to max. This dramatically expands the applications where you can use these abilities.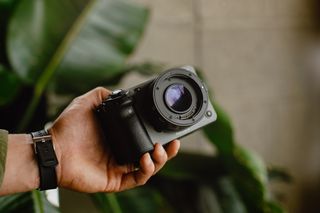 The Tuner also supports EF to E and EF to RF electronics, making it compatible with modern autofocus and in-body image stabilization – and thus significantly easier to use than a traditional vintage lens.
The Tuner is currently being offered at the official Module 8 website for $1,999 (approximately £1,600 / AU$3,025) – while this might seem a steep price to get the look of a vintage lens, it is a fraction of the price when looking to purchase one of the lenses that The Tuner replicates. Therefore, it is a great option for filmmakers that love the vintage look but will struggle to find the cash to invest in a vintage lens set.
If this has been interesting, we recommend taking a look at the best cine lenses for your camera. If you're looking to shoot content for Netflix, it's definitely worth checking out the best Netflix-approved cameras to make sure your kit meets the approval process. And while you're down that rabbit hole, you should certainly stop off at the best 8K and 6K cameras.