Exposure X5 is a very interesting alternative to the usual photo editing choices. It combines simple yet powerful image organisation with very effective non-destructive photo editing tools and – its greatest strength – a library of atmospheric and realistic analog film effects.
We already rate Exposure amongst the best photo editing software you can get, and this latest version – Exposure X5 – brings sophisticated new masking tools, much improved lens corrections and a selection of fresh, new presets.
Exposure X5 is available in both Mac and Windows versions. It can be used as a standalone application to take care of your whole photographic workflow or as a plug-in for Photoshop or Lightroom.
New masking tools
Like Lightroom, Exposure X5 can now selectively mask parts of the picture for adjustment based on color and tone values. Lightroom's Range Masking options are relatively basic, but Exposure X5's new '3D' color masking tool can work with hue, saturation and luminance values which can be selected with an eyedropper tool.
The new masking tools work seamlessly with Exposure's existing Brush and Gradient tools, so now it's possible to mask out tall buildings, for example, when you use a graduated mask to darken a bright sky.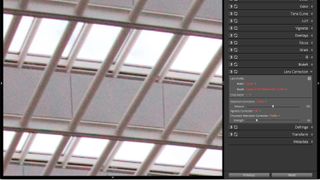 Improved lens corrections
One of the limitations of the previous version was that it could apply lens correction profiles to images but offered no further control over chromatic aberration and other issues.
Exposure X5, however, brings powerful chromatic aberration correction, either using lens profiles or manually (for very stubborn fringing) via fringe color selection and slides.
The existing lens distortion corrections are now supplemented with manual correction tools and it's possible to apply vignette (corner shading) correction too.
New presets and more
It's the effects presets which form the heart of Exposure's appeal, and this version brings new 'light and airy' presets, new 'season inspired' presets and 'complementary color' presets which include Orange/Teal, Red/Green, and Purple/Yellow combinations.
Exposure X5 now supports greyscale TIFF and JPEG files and image flipping, and it's also possible to import and automatically apply custom camera profiles created by X-Rite tools, for example.
Price and availability
Exposure 5 is available now from the Exposure website and costs $119, with an upgrade price of $89. Anyone who bought Exposure X4 on or after August 1 2019 will get the upgrade free. There's also a free 30-day trial version.
Read more:
• This is the best photo editing software right now
• Find out which is the best laptop for photo editing
• Discover the best photo editing tools and accessories