The new issue of Digital Photographer is out now!
Subscribe today to get DP delivered to your door and device.
This month we have another amazing issue for you, packed full of pro techniques, advice, and insight.
Shoot Galactic
Astrophotography can reveal details in the world around us that we never knew existed. This month, in our cover feature, we join pro photographer and airline pilot Ralf Rohner to discover how to read the night sky. Learn where to look to find the best celestial subjects, how to set up your camera for the best colour and light and how to shoot everything from planets to galaxies.
Pro skills to capture colour
Colour control is one of the most important skills for any photographer to learn (yes, even if you mainly create black and white shots!). This month, our second feature is all about working in tricky lighting conditions and learning how to manage the colour challenges this creates. Master hot and cold colours, working in mixed lighting and processing your images to perfection.
Sizzling summer landscapes
Summertime is a great time for beachgoers and jet setters, but it can be a challenge for landscape photographers. Very rarely do we choose to shoot landscapes under the harsh light of a summer noon, but in this shooting and editing tutorial, we will explore how to capture long exposure images regardless of light intensity, using a mix of camera and software secrets. Add colour and drama to your summer scenics today!
Three legs are better than two!
Natural light diet
Get your copy of DP Issue 268 today!
Get a digital copy instantly on your digital device
Where to find Digital Photographer
Plus we've got the usual tutorials, interviews, insight and opinion, from a range of experienced pro photographers from across the industry.
Don't miss out on all of this essential professional-level advice. Get your copy of Digital Photographer now.
Why not Subscribe for a print copy or you can read us on your mobile device with a digital subscription.
You can get your copy of Digital Photographer in stores - but if you can't get out, then order a copy direct from us, either in print or digital form.
For printed back issues go to Magazines Direct
For digital editions of the magazine, you have a variety of options available:
Apple app (for iPhone and iPad)
PocketMags app (multi-platform app for Android and other devices)
Zinio app (multi-platform app for desktop and smartphone)
Readly (all-you-can-eat digital magazine subscription service)
Connect with us
Find us on Facebook and Twitter and subscribe to Digital Photographer, to ensure you never miss an issue!
Digital Photographer on Facebook
Digital Photographer on Instagram
Digital Photographer on Twitter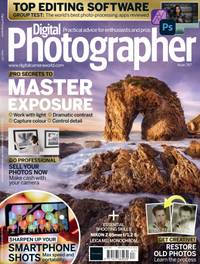 Digital Photographer is a monthly magazine, and the kitbag essential for pros, enthusiasts and amateurs alike!
Inside, you'll find practical guides, shooting tips and techniques from working photographers, plus all the latest industry news.
Read more:
Essential exposure technique: settings for seamless backgrounds
Photo therapy: the art of patience - why it's worth waiting!
Adapt and conquer! Learn to use lens adaptors the right way
Lighthouse photography: learn to compose images of very tall subjects