DJI today launched the widely-anticipated Mini 4 Pro, an update for the top-of-the-line ultralight which crams omnidirectional collision sensors, 20km "O4" radio range, and ActiveTrack 360 subject-tracking AI into a drone which still comes in under the internationally significant 250g threshold.
• See our DJI Mini 4 Pro review thanks to our early test
Not shy about where they're aiming (as if the price didn't make it clear), DJI's Ferdinand Wolf, Creative Director, said: "The Mini 4 Pro perfectly marries professional-grade capabilities while keeping its hallmark lightweight design, offering unmatched freedom and adaptability. This drone emerges as the ultimate all-rounder, designed to elevate your creative toolkit."
That's a bold claim, but he's got a point, and one which it's hard to see eating into any potential purchases except those of other DJI drones like the Air 3 or even the Mavic 3 series. Those drones do offer more, but for many you have to ask "how much more?" The Air 3 has the same image senor size (though, admittedly, two of them at different focal lengths, phone style). Moreover, there will be legal complications to push into those extra features which can be very off-putting for many (it has to be said that DJI has not been shy in making light drones pricey when it comes to the Mini x Pro variants!)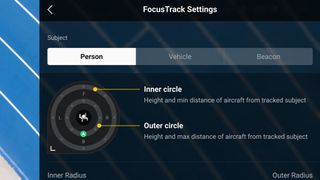 Being able to shoot so easily and relatively safely – especially thanks to the all-round collision sensors – means the Mini 4 Pro seems to have finally presented an option that any photographer or videographer can reasonably pick up, with little or no prior drone experience, and not think of it as an iterative purchase.
It won't be a beginner's drone, it'll be your drone. Why by another? The resolution is good enough for 4K video, has 100fps 4K slow-mo, and still image quality is more than good enough for real estate or wedding tasks. There is even – if you're prepared to land and fit the wide-angle lens adapter – a choice of optical field of view (albeit not as convenient as actually flying with 2 or 3 cameras at once).
That means you might not need to register your drone (though we should remind our British readers that, in the UK, you still need to, even under 250g when a camera is fitted). You still get, though, the pro camera and a flight time that (usefully) surpasses 20 minutes and theoretically reaches 34.
DJI Mini 4 Pro (DJI RC-N2) retails for around $759 / £689 / AU$1,119 while the Fly More kit version with the built-in screen controller (the DJI RC 2), bag, and three batteries is about $1240 / £979 / $1,699. The Wide Angle Lens adapter is $39 / £29 / AU$49.
If you're looking to spend a bit less, look at our guide to the best beginner drones.