DJI is such a big name in drones that everyone is going to sit up and take notice when it launches an action cam. DJI wants to cover every creative angle, so it's go aerial content taped with the Mavic 2, for example, it's got the Oslo Pocket for super-smooth video and now the DJI Osmo Action is here to tackle your toughest adventures.
We'll need to try one out properly to see if it deserves to make it on to our list of the best action cams you can get right now, but the signs are good. The DJI Osmo follows the regular form factor of action cams, with a tough, rectangular body, 4K video capture and 12-megapixel stills, but throws in a few neat twists of its own that promise to give even the best GoPro cameras a run for their money.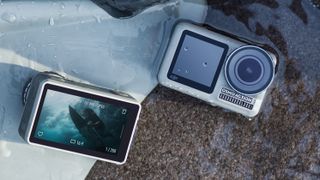 DJI Osmo Action key features
The first and most obvious thing is the use of twin colour screens, one on the front and one on the back. The rear screen is the larger, measure 2.25 inches with touch control and a water- and fingerprint-repellent coating. It's the one you'll use with the camera facing forwards (away from you). But there's a second 1.4-inch screen on the front to help you compose selfies and video yourself for your vlog posts.
Don't knock it. We all used to sneer at selfie modes, but the rise of blogging, vlogging and personal journalism has made front-facing screens a lot more relevant and important for serious photographers and videographers.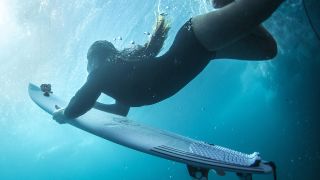 Like any good action cam, the Osmo Action Camera is dustproof, shockproof (for drops of up to 1.5m) and waterproof (down to a depth of 11m without a housing (or 60m with the optional Waterproof Case). It's also freeze proof, being able to work in temperatures down to -10 degrees Celsius.
Inside, there's a 1/2.3-inch sensor that captures 4K video at up to 60fps and an impressive maximum bitrate of 100Mbps, and it can also capture 12-megapixel stills. You can also capture up to 8x slow motion video at 1080 resolution and 240fps, and there's a Time-lapse mode too. For extra-high-contrast scenes there's a High Dynamic Range (HDR) mode that captures 4K video at 30fps with an additional three stops of dynamic range, to reduce highlight burn-out and filled-in shadows.
The removable battery will power the camera for 93 minutes when shooting 4K video with DJI's RockSteady electronic image stabilisation enabled, or 135 minutes at 1080 resolution without stabilisation. An optional Charging Hub can charge up to three batteries in less than 130 minutes.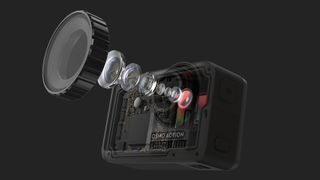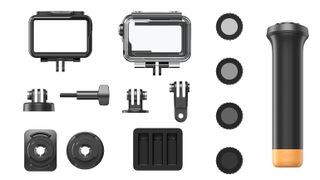 DJI Osmo Action Camera accessories
The DJI Osmo Action camera comes with a Camera Frame Kit included – this offers a universal mount for additional accessories. Also included are adhesive mounts for flat or curves surfaces, including bikes, skateboards, helmets and more.
Also included are Neutral Density (ND), Polarizer, and underwater filters. ND filters (ND4, ND8, ND16, and ND32) reduce light exposure in bright environments, while Polarizer filters reduce reflections on water, glass and polished surfaces and increase colour saturation, especially in blue skies. There are Orange Seawater and Purple Freshwater filters to restore natural-looking colour in underwater scenes.
You can also get an optional Waterproof Case for diving to depths of up to 60m, a 3.5mm mic adaptor for connecting external microphones and an Extension Road with a rotatable phone holder.
The Osmo Action is available now and will retail for $349 / £329.
Read more:
• The best GoPro cameras you can get right now
• The 10 best action cameras on the market today
• The 24 best GoPro accessories available right now