As rumored and predicted for some time now, DJI has finally launched its first drone of the year. And the wait has definitely been worth it; the DJI Mavic Mini will be the lightest camera drone that the market leader has made to date. And, with a foldable construction, it will be affordable, too.
• See in-depth DJI Mavic Mini review
The DJI Mavic Mini will sell for just $399 / £369 from November. There will also be a Fly More Combo kit, with spare batteries, controller and other goodies for $499 / £459.
DJI has a dominant position in the prosumer drone market, but it has come under increasing threat from regulation in key markets like the UK, USA, Canada & China, all of which require registration of drones over 250g.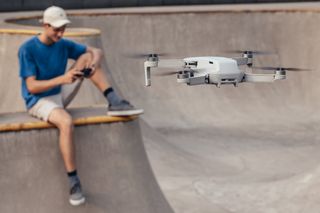 The new Mavic Mini comes in a just under that crucial limit. Indeed, DJI seems to be attempting to brand this relatively new area of the market, using the term 'FlyCam' for compact drones in the way that Sony would say 'Walkman' of a similarly-sized cassette plater.
Certainly DJI has more than coped with the challenging weight requirement, packing in a 12-megapixel camera and the ability to capture video at up to 2.7k (topping out at 30fps) or 1080p at 60fps. Not quite the 4K that the other Mavic's can manage, but these are weightier drones capable of holding the onboard processing and heat-management systems needed.
Where the weight limit seems not to have held DJI back is the 3-axis mechanical gimbal, the mechanism that holds the camera and its 1/2.3" image sensor steady as the drone vibrates. This is especially impressive since even Parrot's heavier Anafi only has two motorized axis.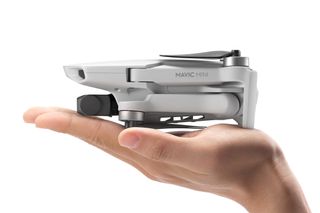 Despite carrying the name Mavic, the Mini is actually the spiritual successor to the DJI Spark – formerly DJI's cheapest drone. That aircraft, however, offered just 16 minutes of flight time, which this nearly doubles to 30 minutes and beats the Mavic Air. It still has a theoretical 4km control range, GPS, and collision sensors.
As interesting as the technical refinements are, the software and the accessories are also marked changes for DJI. For a while now, new DJI drones has used an app called DJI Go 4, which can be used with the larger Mavics or the professional Inspire 2. Here, though, a newer, cleaner app called DJI Fly takes it place.
The app is very sharing-friendly, introducing a new Cinesmooth mode (a kind of slow mode which takes the sharp movements out of your videos) as well as a full range of automatic maneuvers, "QuickShots", Rocket, Circle, Drone & Helix, which have been seen on previous DJI drones. It also builds on the existing instant edits with "Creator Templates" that create arresting social-friendly edits with sound and sticker-like overlays.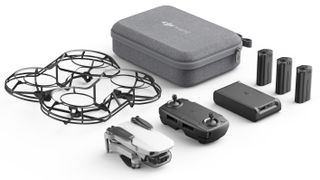 The accessories range includes a new-look 360° Propeller Guard, offering a child above and below the propellors making indoor flying that bit safer. Perhaps the most striking new offering, though, is a dome-like charging base that is intended to enable you to display your drone while giving it a clear plastic cover – the result is something like a modern carriage clock, without the clock.
Equally surprising to experienced drone professionals is the DIY Creative Kit – stickers and pens for you to personalize your Mavic Mini, which seem to sit between the design-purist's love of neatness and the graffiti artist's enthusiasm for the unique. Since both are clearly in DJI's sights in terms of sales it makes a lot of sense, though it could look a lot like a hand-drawn phone case.
There is also a Snap Adapter, for clipping on extras like a mini LED display to fly messages to people (though DJI hasn't yet commented on what this does to the take-off weight rules)
Looks-wise, the drone is recognizably a DJI product – like the lovechild of a Mavic Air and a Mavic 2. The legs still need to be folded out in the right order.
Like other DJI drones it is offered with a single battery and controller at $399/£369 and a more expensive "Fly More" Combo ($499/£459) with three batteries and a case.
• Preorder the DJI Mavic Mini from Wex Photo
• Preorder the DJI Mavic Mini from B&H Photo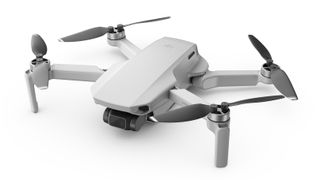 Read more
Best DJI drones in 2019
Best drones for beginners in 2019
Best drone accessories: essentials for your DJI drone and other quadcopters