DJI has launched a new educational drone - the DJI RoboMaster Tello Talent - which is the latest of its programmable drones and robots that it makes to help teach coding in the classroom.
Alongside the firm's consumer and pro camera drones, which feature powered gimbals, DJI also have enterprise and agriculture lines. In 2018 the firm also launched the Ryze brand, under which it sold the Tello – a compact drone with a fixed 5-megapixel camera which brought some of DJI's technologies to a device the size (and nearly as cheap as) many toys, and one of the best drones for kids.
The Ryze version was marketed to consumers, but the Tello EDU soon emerged; essentially the same drone backed up by better software targeted at the Science Technology Engineering and Mathematics (STEM) market. The original EDU features object recognition, 3" propellors, propellor guards, a battery which offers up to 13 minutes of flight time, and a Micro USB cable, and is a little under 100mm square.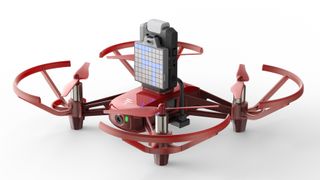 This week DJI announced a new RoboMaster TT (Tello Talent), which includes all the features of the Tello EDU, boosted with the powerful 40nm system-on-a-chip ESP32 and an infrared time-of-flight (TOF) which provides distance detection up to 1.2m similar to that in the Inspire 2. Not only are the RGB LED lights programmable (up to 256 shades), but there is a two-tone dot matrix LED display (red or blue). The drone's range is 100m and an altitude of 30m, but that should be ideal for a school hall or home.
"The DJI RoboMaster TT was specifically designed to appeal to students while cultivating knowledge in AI robotics, programming in a fun, easily digestible and hands-on time which is crucial for applying real world knowledge," says Jianrong Gao, head of DJI Education. The new hardware can be accessed via popular learning languages like Scratch, Swift and Python and the display gives students the option to experiment with animations, scrolling letters or other visual effects.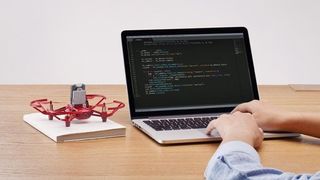 There are options to program the RoboMaster TT using many languages, some with blocks, some with code.
DJI has been exploring robotics and education since 2013 when it hosted its first robotics summer camp, and the number of features available via the company's teaching resources is growing. Teaching resources are available for download from DJI at the DJI Education Hub and the software is designed to complement the other DJI RoboMaster S1 and RoboMaster EP robots, which can operate with open-source hardware like Micro:bit, Arduino and Raspberry Pi as well as Apple and Windows machines.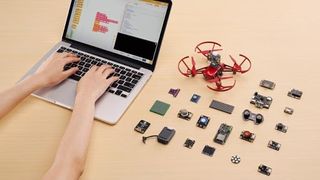 DJI's software makes it possible for programmers to create swarms so, with more than one drone, combined with the programmable lights, there is the potential to create display. There are many more third party accessories and AI features which can be added, including environment and facial recognition & following, gesture recognition and palm control. The features are also there to customize user interfaces, making for an in-depth learning experience; the appeal of the drone is clear for younger students, but the skills have potential in other areas.
DJI is now developing these curriculums at workshops and camps at the Singapore Science Centre, attendance of which will help you gain a robotics place at the University of New South Wales.
The DJI RoboMaster TT Tello Talent is on sale now for $239 / £235, a price jump from the Ryze Tello EDU but surprisingly accessible for a product targeted at education, and perhaps making it more than tempting for parents sharing useful skills (or trying to pick up coding for the new employment market).
Read more: