With November well under way and Christmas just over the horizon, it's time to start thinking about your annual advent calendar. Whether you're a chocolate fiend, or you prefer small trinkets, why not go a step beyond the ordinary supermarket-bought advent calendar?
Cewe photoworld is currently offering a create-your-own advent calendar with a difference - you can choose exactly what goes behind each door by filling them with your favorite sweets, small toys or more. Perfect as a gift for your partner or children, this photo advent calendar gives you the power to choose the gifts you know the recipients will love.
• Read more: Best Black Friday camera deals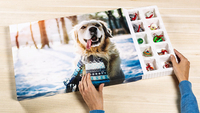 Fill Your Own Advent Calendar: From £19.99
Create a photo advent calendar and fill it with your favorite sweets and toys. Alternatively, pick up a Ferrero or Kinder chocolate-filled advent calendar. Or, what about an advent calendar with photos instead of gifts? (UK only)
Alternatively, if you want to buy a calendar complete with gifts, then Cewe has a full range of personalized photo advent calendars complete with delicious presents, including Ferrero chocolates, Kinder chocolates and Kinder Surprise Eggs.
Or, if you're creating an advent calendar for the whole family, why not invest in Cewe's photo advent calendar, with your own photos behind each door. This is available from only £8.99 - yet you can use it year after year!
No matter whether you want to create a photo advent calendar with your own gifts, choose a chocolate-filled advent calendar, or simply let your own family snapshots take pride of place, a photo advent calendar is the perfect way to get into the festive mood. Ho, ho, ho!
Read more
Best photo calendars: Create your own photo calendar for 2020
Best photo albums in 2019
Best photo books in 2019: great printing services for your photographs