Canon has been hard at work designing a teleconverter for its new RF mount. This won't be a standard converter, though – rather than having a fixed magnification, this one will be switchable between two different ranges.
Teleconverters usually come in two common varieties, 1.4x (which would turn, for example, a 300mm lens into a 420mm lens) and 2x (which would turn a 300mm lens into a 600mm lens). Canon's unique new teleconverter, however, is designed to toggle between both magnifications.
• Read more: What is a teleconverter?
That's according to a new patent discovered by Canon News, which points out that the design is for the RF mirrorless mount used by the Canon EOS R and Canon EOS RP rather than the DSLR EF mount.
"The super telephoto embodiments listed in this could certainly be for the Canon RF system, and not the Canon EF system," writes the site, citing the example of a 600mm f/4.0 super telephoto lens with a back focus distance of 40.53mm.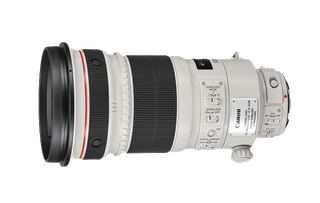 "The back focus (BF) distance is a little too tight for Canon EF, especially when you consider it has to also fit an extender as teleextenders atypically protrude slightly into the lens itself, and require a back focus distance, greater than that of the flange distance (in Canon EF's case that is 44mm)".
A switchable teleconverter would certainly be a huge book to the Canon RF lens roadmap, especially with some of the rumored new RF super telephoto lenses that we've written about. However, there is an even more intriguing prospect.
According to a report on Canon Rumors, the manufacturer is working on an innovative new RF 300mm f/2.8L IS USM lens for 2020 that will come with a "new and unique feature" for super telephoto optics.
Could it be that these two stories are related, and that Canon will announce a revolutionary 300mm lens with built-in teleconverter that can toggle between 300, 420 and 600mm at the flick of a switch, without the need to unmount anything?
It would certainly be useful for pros shooting the Olympic Games next year on the professional-grade EOS R that is at the centre of plenty of camera rumors…
Read more:
What is a teleconverter and how do I choose the right one?
Canon RF lens roadmap
Canon EOS R review