It's long been known that taking and selling stock photographs just doesn't pay like it used to. However, it seems that stock website Shutterstock has taken the percentage it pays its contributors to new lows – and seemingly without adjusting the price that the consumer pays. Their new pay structure means that contributors can receive as little as 10 cents for their photographs.
We put out a call for Shutterstock contributors to get in touch with their experience of how the change in payments has affected them – and we were overwhelmed with emails. Many photographers contacted us to share their anger and disgust at the way they'd been treated by Shutterstock. Jess Wealleans from That Dog Spot helpfully broke down how the new payment structure had affected her earnings, which you can see below.
• Read more: Best full frame DSLR
One of the many issues with Shutterstock's behavior is that now only has the company enacted this policy with reportedly very little warning, it's also done so in the middle of a global pandemic when photographers' earning powers are already severely limited. However, one of the main problems with Shutterstock's new payment structure is the fact that it resets contributors' earning potential each calendar year.
This means that no matter how many images someone sold the previous year, they'll be set back to square one every single January – and until they've sold 100 image licenses, they'll only earn 15%, which, to our understanding, equates to 10 cents. This means that for the first 100 photographs each contributor will sell each year, they'll only earn $10.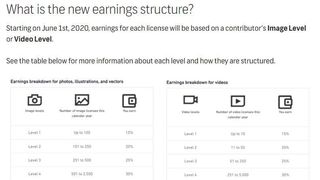 While each contributor will have their earnings affected in different ways, Jess Wealleans from That Dog Spot gave a really helpful explanation.
"I'm a Level 4 stills contributor with a heavily dog-focused portfolio with lifetime earnings of around $8,000 and 11,078 downloads. This works out to an average of $0.72 per download. It's been nine days since the change. I read the initial email and felt disheartened, but then I did some research and, given I'm a Level 4, I thought it wouldn't have much of an impact. I was wrong.
"I [recently] checked my earnings report and… thought there had been a glitch [as my earnings had significantly dropped]. I logged a support ticket and received a generic reply that included the paragraph:
'Under the new earning scheme, when your commission percentage from the sale price of a content falls below 0.10 USD, you will get 0.10. This happens in very large subscriptions plans with huge number of photos in the package (for example 750 images per month or 9,000 images per year).'
"So this leads us to believe that a 10 cents earning is pretty rare right? However, this month more than half of my downloads have been 10 cent downloads. I did some digging and it turns out that my average earning per download for this month so far is 30 cents when you take into consideration all plan types for different buyers.
"As a comparison, [before this new payment structure], my average download was worth 70 cents to me (as opposed to the new average value of 30 cents). So, if my maths is right, I've lost 57.1% of my income from Shutterstock. I'm shocked and actually quite angry."
Jess went on to explain that, like many Shutterstock contributors, she's considering moving her portfolio over to other stock websites – and perhaps even closing her Shutterstock portfolio entirely.
Other than a generic message posted on Shutterstock's Facebook page (as seen below), there doesn't seem to have been any follow-up to the outpouring of anger at Shutterstock's decision. There has even been a Change.org petition created in response to the new payment policy that currently has over 9,000 signatures.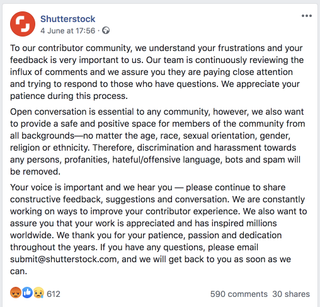 If you've been affected by the new Shutterstock payment structure, please feel free to share your experiences in the comments below.
Read more
Best travel camera in 2020: see the world and capture amazing images
Best film scanners in 2020: give your cherished negatives and slides new life
Best compact cameras in 2020: cameras that are big on quality, small on size