They say imitation is the sincerest form of flattery – but it appears that GoPro has had enough of being flattered, however sincerely.
Together with Amazon, the firm has announced a lawsuit against "seven individuals and two entities" who have counterfeited GoPro's camera accessories. Among the products highlighted are The Handler, GoPro's floating hand grip. and the GoPro 3-Way, its three-in-one grip, extension arm, and tripod mount.
Anyone who has spent time shopping for camera gear on Amazon can tell you that it's pretty common to find cheap products that rather closely resemble products from big established brands. However, these alternative sellers have to walk quite a fine line to avoid landing themselves in legal hot water, as this lawsuit demonstrates. When we're compiling guides like our rundown of the best GoPro accessories, we try to steer clear of these kinds of products, as it's hard to vouch for their quality.
Kebharu Smith, Director of Amazon's Counterfeit Crimes Unit, said, "When counterfeiters attempt to sell in our store, they not only violate the intellectual property rights of companies like GoPro, they also mislead consumers and harm Amazon's reputation as a place to buy authentic goods."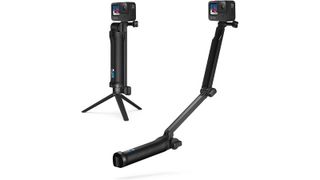 If you weren't aware that Amazon even had a Counterfeit Crimes Unit, then you're likely not alone. It launched in June 2020, and since then has filed a number of actions against counterfeiters of big brands in Amazon's store. According to Amazon, it has invested more than $700 million and employed more than 10,000 people in its crackdown – so it seems like it's taking this very seriously.
While it feels like anyone can sell basically anything on Amazon, the firm says that only 6% of attempted new seller accounts passed its registration process. The wild west days of Amazon as a place to buy accessories that if you squint look a little bit like GoPro official products could well be numbered. Though, with that said, searching a generic term like "gopro grip" still brings up a lot of third-party grips that look an awful lot like The Handler, right down to the orange coloring.
We'd guess that big-brand imitators are still something you're going to see on Amazon – they're just going to have to be a bit more careful.
Read more
Best GoPro accessories
Best GoPro cameras
Best GoPro alternatives
Best gimbals