Many photographers object on principle to 'subscription' software where you pay a monthly fee rather than a one-off licence payment. For ages we've been saying what a good deal the Adobe Photography Plan is, but when the base-level £9.98/$9.99 plan disappeared from Adobe's Photography Plan options, like so many others, we assumed the worst.
Without so much as a press release, it appeared that Adobe had withdrawn its £9.98/$9.99 Photography Plan from its websites, so that the cheapest option that still included Photoshop would now cost twice as much and tie you in to 1TB cloud storage for Lightroom CC, whether you wanted it or not. This is the Photography Plan with 1TB, which costs £19.97/$19.98 per month (paid annually), twice as much as the standard Photography Plan.
• The best Adobe Photography Plaj deals for Photoshop CC and Lightroom CC
The Internet, as you might imagine, has gone ballistic.
But it turns out Adobe was simply running some pricing/visibility tests. This is the official company statement we received this morning:
"From time to time, we run tests on Adobe.com which cover a range of items, including plan options that may or may not be presented to all visitors to Adobe.com. We are currently running a number of tests on Adobe.com. The plan can be purchased at http://www.adobe.com/go/photo18sptst, via phone at 0800 028 0148 or via major retailers."
So it seems you can still get the standard £9.98/$9.99 Photography Plan after all, and Adobe was simply experimenting with, er, hiding it.
(If it's not visible on our Adobe Photography Plan deals page, use the green VIEW button to click through to the Adobe site, where you should still see it amongst the options.)
Lightroom CC and cloud storage
Lightroom CC is the 'web first' version of Lightroom. It has a streamlined interface which is actually a refreshing new development, but it lacks a number of Lightroom Classic's organisational and editing tools. It also stores all your images on Adobe's web servers, so it requires extra storage, which brings a higher subscription fee. The storage starts at 1TB but could quickly escalate for those with large libraries.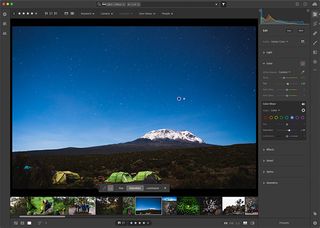 No doubt Adobe would love users to switch to a more expensive tariff that includes cloud storage, but this seems a particular ham-fisted way of testing the response.
This will only inflame debate about subscription software versus regular one-off payments. While Adobe's basic Photography Plan is £9.98/$9.99 per month, it's easy to argue that it's a really cost-effective alternative to regular software. At the moment it heads up our list of the best photo editing software you can get right now.
The much more expensive Photography Plan with 1TB is an entirely different proposition which is good in its own way for a slightly different audience, but would appear much further down our list.
Read more:
The best cheap camera deals in 2019