When it comes to AI, Adobe is certainly making sure it isn't left in the dark with the release of Adobe Elements and Adobe Premiere 2024. The one-off payment photo and video editing software now features some exciting tools powered by AI that will give users more creative power at the click of a button.
Since the launch of Adobe Firefly, Adobe has been relentlessly updating its image and video editing platforms to include generative fill AI tools that make editing quicker and easier. Until now, these tools were only available to users who paid for a Creative Cloud subscription but now Adobe Photoshop Elements users have access to a range of quick actions such as skin smoothing, JPEG artifact removal and background selection that free up more time to focus on the important side of editing - being creative.
• Check out the best photo editing software enabling you to retouch, fix or transform your photos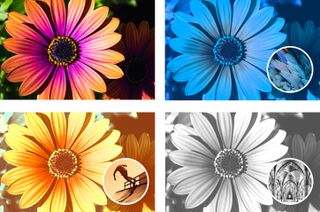 Along with the introduction of AI-powered tools, Photoshop Elements also has a brand new look featuring modernized icons, better fonts and the option to work in either light or dark mode. The new match color feature gives users the power to completely transform the look of an image by matching the colors to one of Adobe's built-in presets or to one of your own photos making it easy to crank up the vibrance, turn an image black and white or add some more cinematic color grading.
In a world where so many of us consume and create content on our camera phones, Adobe has also added a new feature that allows users to create and share beautiful photo reels. Users can select from a variety of layouts including 9:16 (perfect for mobile), 1:1 or 16:9, add text captions, photo filters and graphics such as borders or stickers then export them as MP4s and GIFs to share on Instagram, Facebook or TikTok.
Keeping mobile in mind, Adobe has also added some handy tools to the mobile companion app giving users the power to perform simple edits such as image straightening, auto corrections and background removal directly from a mobile device. These images can then be saved and uploaded to the cloud so they can be accessed on the web app to make more in-depth creative edits. This latest update also gives users access to Adobe Stock - an extensive library of thousands of images that you can use to create surreal imagery, replace a background or create standout posts for social media using Quote Graphic.
Not forgetting about Adobe Premiere Elements, just like Photo Elements, users can match color to give videos a completely new look. Using AI and automation, Premiere Elements can now stitch together the most exciting part of your videos using Highlight Reels. It focuses on action, people and faces to create an engaging video without the hassle of choosing your own shots. It will also apply the same cinematic filter across all your clips to give it a seamless finish.
You can also enhance your storytelling with new audio effects such as reverb, vocal enhancer and dehummer which will make your videos sound more professional and improve the overall listening experience. Just like in Adobe Photo Elements, it's now even easier to add graphics and sync videos so you can access them on the Cloud.

The world of editing has completely changed with the introduction of AI-powered tools. Fiddly time-consuming tasks have been replaced by one-click tools and the integration of mobile-optimized features makes it faster and easier than ever to create beautiful photos and videos to share online. While AI continues to cause controversy in the photography world, we have nothing but good things to say about Adobe's AI additions.
Premiere Elements 2024 and Photoshop Elements 2024 are available to buy now for $99.99 each, or for $149.99 for both.
Check out the best video editing software designed to help you create beautiful, cinematic videos