Where can you buy prints from greats including Ansel Adams, David Bailey and Patrick Demarchelier, admire a giant bronze egg, enjoy new work from Susan Meiselas and more, and listen to a talk by Nick Brandt?
Photo London 2019 ticks all these boxes, and it runs until Sunday 19 May in Somerset House, next to Waterloo Bridge.
Now in its fifth year, Photo London was established to showcase the very best of the past, present and future of photography, and has become a hot ticket for some of the world's leading photographers, exhibitors and curators.
It brings together the capital's major photo galleries, museums and auction houses in a four-day celebration of the photographic medium.
Visit the event to see over 100 exhibitors including many of the world's leading galleries, enjoy 25 solo presentations or admire new work from emerging galleries and artists in the Discovery section.
Photo London 2019's programme of talks is curated by renowned curator and writer William A Ewing – and 11 talks will take place over the weekend of 18-19 May.
And the event's Public Programme includes special exhibitions featuring Eamonn Doyle, Roger Fenton, Josh Haner, Vivian Maier and Gavin Turk.
Here are five things to enjoy at Photo London 2019 this weekend.
1. Browse a selection of incredible images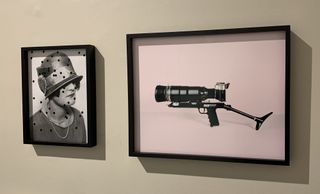 With over 100 galleries to visit at Photo London, you can browse some incredible images all in one place. So if you've ever fancied picking up prints by some of the greats of photography, or just seeing them close-up, then Photo London is your ideal opportunity.
Some of the prints that caught our eye were 'Christy' by Patrick Demarchelier (a cool £24,700) in the Camera Work Berlin gallery (F13). While you're there, you can also appreciate works by Richard Avedon, Herb Ritts, William Klein and Helmut Newton, and Bryan Adams' portrait of Amy Winehouse (£15,000).
There's also a display of images of pop art pioneer Andy Warhol, hung on a wall covered in tin foil.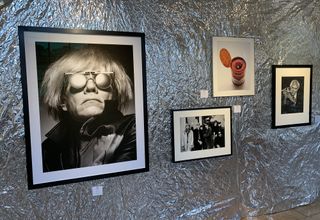 In Galerie Johannes Faber (C10), you can snap up Dennis Hopper prints of The Grateful Dead and Phil Spector for £15,500 each.
Classic images from Bert Hardy (including his famous 'Maidens in Waiting, Blackpool') are on sale for $5,000 in the Peter Fetterman gallery (C15).
In the Pavilion a selection of Linda McCartney prints (certified as genuine and signed by Paul McCartney) are for sale at £5,500. Subjects include Paul, Mick Jagger, Janis Joplin and Pete Townshend. Find them at the James Hyman gallery (G21).
More classic images from the 1960s are on display in Galerie Bene Taschen (G13). Here, you can bag a David Bailey print of Lennon & McCartney or Mick Jagger for £11,250.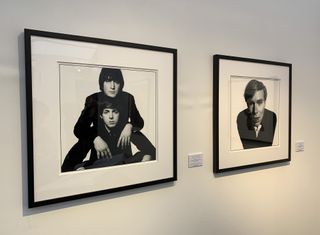 Limited edition prints from Nick Brandt's This Empty World book are on display in the Atlas Gallery (G1). The 'Bridge Construction With Elephants and Workers At Night' photograph can be yours for £33,000. If you don't have that kind of spare change, though, then make sure you see the images up close – they really are incredible.
Plus, on the Leica Camera stand near the entrance to the Pavilion, you can shop for classic Ralph Gibson photos. A gelatin silver print costs £3,900.
2. Women in Photography
This year's Pavilion Commission celebrates the work of three very different female photographers – Rachel Louise Brown, Mary McCartney and Susan Meiselas – which appears on the sides of Pavilion, in Somerset House's central courtyard.
Rachel Louise Brown's 'Simulations' is a fictional narrative that translates heightened psychological states in both herself and her subjects. It's making its UK debut at Photo London 2019.
'Off Pointe – A Photographic Study of the Royal Ballet After Hours' by Mary McCartney captures ballet dancers behind the scenes in unguarded moments as they prepare for their performances at the Royal Opera House.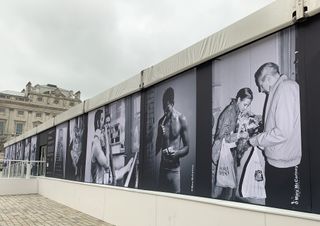 'A Room of Their Own' is a recent work by Susan Meiselas and explores the lives of women who are survivors of domestic abuse. This multi-layered visual story comprises photographs, original artworks, first-hand testimonies, the result of a collaboration between the artist and an illustrator, a writer and the women themselves.
3. New images by Master of Photography Stephen Shore
Given annually to a leading contemporary photographer, the Photo London 2019 Master of Photography award goes to American photographer Stephen Shore.
Shore presents the UK premiere of 'Details', a series of new work. His Masters show also presents 'Los Angeles', which features 60 small photographs taken on a single day in 1969. Head to the East Embankment Gallery, at Embankment level.
4. Nick Brandt talk, Sunday 19 May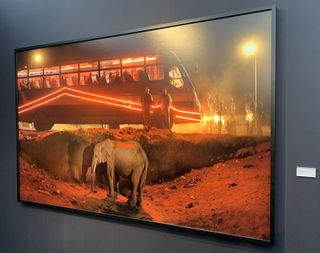 Fresh from his recent appearance in Digital Camera's Spring 2019 issue, when he revealed the story behind the incredible images in his latest book This Empty World, the conservation photographer will appear in conversation with David Campany. Nick will also be signing copies of his book on the Atlas Gallery stand, G1 in the Pavilion, between 12pm and 1pm on Sunday.
5. Gavin Turk's Portrait of an Egg sculpture
One month before the start of Photo London, a giant bronze egg sculpture was installed on the Embankment Terrace. The aim of the egg was to inspire the public to submit photographs, and the resulting entries are being projected on the walls of the Great Arch Hall.
Visit Photo London 2019
Photo London 2019 takes place at Somerset House, Strand, London WC2R 1LA. Entry to one of the talks, and the rest of the fair, costs £13. For students it's £10.
For more information, go to the Photo London 2019 website.
Read more
The best 50 photographers ever