Color science is something that isn't talked about enough. Sure, certain brands have a reputation for less than stellar color reproduction (and especially for having trouble with skin tones) but color science isn't discussed nearly as much as it should be, given that color is a pretty crucial part of photography.
I think this is due, in large part, to the aggressive editing and presets that photographers apply in post-processing. And at that point, when you're slapping on overlays and crushing sliders, colors don't really matter. Though that raises the question: if your camera's colors were actually good, would you really need to edit your photos as aggressively?
Like many photographers, I just accepted that editing colors was a necessary part of the process… and then I started shooting on Hasselblad kit.
You see, there's color science and then there's color science. And until I started using Hasselblads properly, I didn't realize just how primitive most brands' color science actually is – even those that are renowned for having fantastic colors.
I review cameras for a living, and I've used the best from every brand, and the simple fact is that cameras like the Hasselblad X2D 100C have the best color science in the business. It's all down to Hasselblad Natural Colour Solution, one of so many clever bits of technology that we don't talk about enough.
Why is it so good? It's tricky to articulate in words, so just take a look at this side-by-side photo: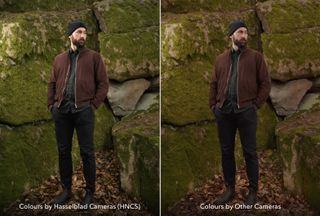 Clever color science is about more than just whether or not there's too much magenta in a skin tone. As you can see above, clever color science feeds into tonality, transition and contrast – which is what imbues images with depth, dimension and 'pop'.
Hasselblad's Natural Colour Solution is its proprietary color management system, developed to enable cameras to render the world of colors in the same way they are perceived by the human eye, in every lighting situation.
"The human eye automatically enhances details and contrast," says Hasselblad. "If a camera simply restores accurate color values in technical terms, it would be monotonous and boring, nowhere near what the human eye actually perceives. In order to take care of these subtleties, HNCS also optimises tone and contrast."
Which is why the comparative image above possesses an almost HDR look, even though it is not an HDR photo – and even if you aren't viewing it on an HDR display. Where most of us, using most other cameras, need to crank clarity and slide S-curves and fiddle and faff with our files to turn them into something interesting, Hasselblad bodies have that cinematic look straight out of camera: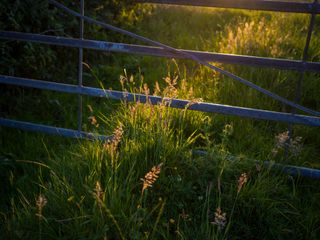 "Hasselblad's understanding of natural colors brings together HNCS. It includes an independently developed Hasselblad look-up-table (LUT), Hasselblad Film Curve, and unique color processing that together adapts to any illumination. The color data undergoes a series of transformations that remap the captured values. This ensures true contrast, rich saturation, and tricky subtle tones – like skin tones – are kept smooth, even between highlights and shadows."
It helps, of course, that the Hasselblad X2D delivers true 16-bit color depth, and captures all that raw data on a massive 100MP image sensor that's back side-illuminated – part of the reason why even the best color science on the best full frame camera will never match that of the best medium format cameras.
And this, ultimately, is why you invest in a camera like the X2D: because you want ultimate image quality. You want to capture the best colors possible. You want photographs with the kind of shape, texture and form that other cameras simply aren't capable of.