Rotolight has fast made a name for itself among photographers and videographers who require complete control over their lighting, with a whole suite of well-respected on- and off-camera solutions for enthusiast and professional users. And now, the company has made its award-winning lineup even more accessible through a range of exciting offers.
For a limited time only, you can shave a generous £100 off the price of the portable AEOS unit, and save a further £100 if you opt for the two-light kit. Need something more powerful? A free battery and charger bundle worth £331 is all yours when you go for the Anova PRO 2, and if you just want to pimp your existing setup with some useful accessories, you can take 10% off selected products.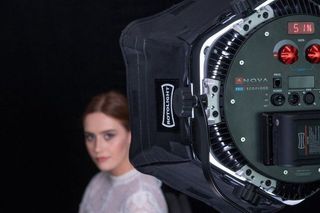 The flagship, revolutionary Anova PRO 2 manages to be one of the brightest LEDs of its kind, with an output of 10,700 lux at 3 feet, despite its class-leading power-to-consumption ratio of just 72W. It works with a range of accessories to help the user modify and control its output, and even boasts a fully integrated Elinchrom Skyport flash receiver, which allows for wireless flash triggering from as far as 200m (656ft) away from the subject. No wonder it walked away with the Best of Show accolade at NAB 2018, and hailed as "love at first sight" by the judges.
The award-winning AEOS, meanwhile, is a versatile location light that weighs less than 1.5kg and measures less than 1in thick. With a powerful output of 5750 lux at 3 feet, it soldiers on for 3 hours on a single charge of the optional battery, while the aluminium handles crafted into the body help you move and position the light exactly how you need to, something that's made even easier with the included ball-head that allows for 200º tilt and 360º rotation when mounted on a stand.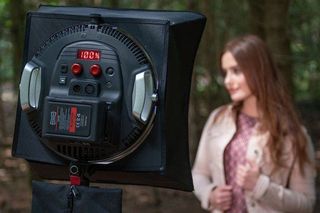 So why else have these products have found so many devotees? Aside from the broad appeal to both photographers and videographers – and those who flitter between the two – the various models within the range are united by a marriage of innovation and high performance. Rather than simply doing what their peers cannot, they also match them for what they can do with better performance and greater reliability.
So, whereas an ordinary flashgun will be limited to simply outputting flashes, all of Rotolight's LEDs provide the 'shoot-what-you-see' benefits of continuous light and High Speed Sync flash, right up to shutter speeds of 1/8000sec. Furthermore, zero recycle times get round one of the main bugbears of even modern flashes, and makes the range more suited to modern high-speed cameras with fast continuous shooting rates.
Add to that always-cool LEDs, which means that nothing is too hot to touch, regardless of how long its in use, and the result is that there's no hanging around and no separate modelling lamps, together with no concerns over heat or comfort when working in confined spaces – just all the light you need, as often as you need it, wherever it is you're shooting.
Accuracy and control are also key benefits of the range. Rotolight's LEDs offer electronically adjustable brightness, together with colour temperature adjustment between 3150-5600K, which allows you to tailor their output to the ambient lighting environment. Meanwhile, the outstanding colour reproduction (CRI 96, TLCI 91) of the AEOS and Anova PRO 2 mean that you needn't worry about inaccurate tones or problems with lifelike reproduction.
Celebrity photographer Mark Mann, who uses both the AEOS and Anova PRO 2 to shoot some of the most respected film and TV stars such as Benedict Cumberbatch, Margot Robbie and Martin Freeman, says: "As a photographer who is being asked more and more to shoot video and stills at the same time, Rotolight has really improved my workflow. Especially in a situation like this which has a very high turnover of people, I really have to have reliable equipment."
These exciting offers are only available for a limited time, both at participating retailers and on Rotolight's website. So whether you want to try LED lighting for the first time or add a few accessories to your kitbag, now's the time to make it happen.
Click here to find out more.