Blackmagic has just announced its latest camera: the Blackmagic Pocket Camera 6K Pro, a $2,495 powerhouse that captures video footage at an uber-high resolution of 6144 x 3456.
Still, while the Blackmagic Pocket Cinema Camera 6K Pro is impressive, its 6K video isn't nearly the headline-getter that 8K video is – and right now, the 8K camera to beat looks like the Sony A1, with its mega-high video resolution of 8640 x 5760. (While the Canon EOS R5 also boasts 8K video, recording limits and overheating issues mean that it isn't quite the full fat 8K machine that the A1 is.)
• Read more: Sony A1 vs Canon EOS R5
At first glance, it seems like a no-brainer; 8K is just straight-up better than 6K. The question is, is 8K $4,000 better than 6K? Because that's the question you have to ask, when the Sony A1 costs $6,498 and the Blackmagic 6K Pro is just $2,495.
Not only is the Blackmagic over 60% cheaper, it also employs the Canon EF mount – home to a much wider selection of much more affordable lenses. So with that $4,003 you're saving, you can buy a whole lot of glass to go with the 6K Pro.
Obviously, though, things aren't that straightforward…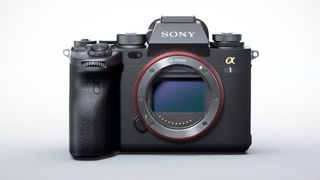 8K vs 6K (vs 4K vs 1080p)
First, let's go beyond the numbers. The Blackmagic's 6K has a resolution of 6144 x 3456, while the A1's 8K comes in at 8640 x 5760. But what does that actually look like? How much bigger – and how much better – is 8K compared to 6K?
Certainly, 8K is larger than 6K and packs in significantly more detail. However, in real terms, the jump from 6K to 8K isn't anything like as significant as the jump from 4K to 8K – or even 1080p to 4K, for that matter.
The image below illustrates the actual difference between 8K and 6K, with 4K (UltraHD) and 1080p (HD) for context.
See also: Best 8K camera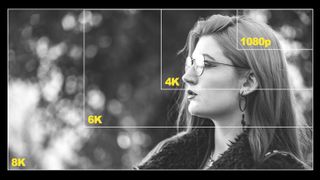 The fact is that 6K is already overkill in terms of resolution; 8K is like bringing a grenade to a knife fight. And to the all-important eyeball test, a 6K file is so pixel-rich that the perceptible gains of the extra 2K resolution really aren't that great.
Of course, the fact of the matter is that 8K in and of itself isn't actually the point – at least, not in 2021. Unless you're lucky enough to have an 8K display, you can't even watch 8K content yet.
No, the real point of 8K at this moment in time is twofold: to provide enough resolution to crop into the frame (to frame close-ups in an interview, for example) or to produce oversampled 4K video – that is, 4K video that is downscaled from an ultra-dense 8K readout.
Still, you can already achieve that with 6K – cameras like the Panasonic S1H can already downscale 6K video to deliver an insane amount of detail. So, just how much do you really need to oversample your 4K footage?
Sensor size
Beyond the mere question of resolution, and what you do with it, though, is the canvas on which that resolution is captured. And here is the biggest rub; the Sony A1 possesses a full-frame image sensor, while the Blackmagic has a Super 35 sensor.
Super 35 is a smaller sensor format, broadly similar in size to APS-C. And on the one hand, that has some benefits; Canon was quick to point out, for example, that the APS-C sized 4K video on the original Canon EOS R cut together well with Super 35 footage shot on its cinema cameras.
However, there are a number of benefits that full-frame video possess over that shot on Super 35 – the most obvious one being the larger pixels. Even shooting at the exact same resolution, whether it's 6K or 4K, the fact that the A1 has a larger sensor means that the individual photosites will be larger.
These larger sites, having greater physical surface area, are thus able to capture more light – in turn delivering cleaner low light performance and less noise than the smaller sites on a Super 35 sensor.
This manifests as better dynamic range and higher ISO sensitivity. Indeed, while the Sony A1 boasts 15 stops of dynamic range and a native top ISO of 32,000, the Blackmagic 6K Pro claims 13 stops and dual native ISO up to 25,600.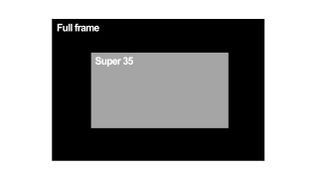 Of course, low light can be mitigated by fast lenses and wide apertures – and this is, again, an area where the difference in sensor size is quite pronounced. As we all know, full frame sensors deliver beautifully shallow depth of field, enabling you to blur out backgrounds and isolate subjects when shooting at wide apertures.
However, while this creates a striking cinematic look, this isn't always welcome. While shooting wide open to achieve shallow depth of field can be a very deliberate effect, it can also be a much less welcome side effect; if you are shooting at fast aperture purely for the purpose of gathering more light, you don't necessarily want everything to be blurry.
If you're filming a wedding ceremony in a dark venue, for example, you will probably have to open up the aperture – which means that anything outside your shallow depth of field will be out of focus on a full frame sensor. Thanks to the crop factor of a Super 35 sensor, though, shooting at wide apertures produces a far wider depth of field; an f/1.8 lens produces about the same depth of field as an f/2.75 lens, meaning that you can shoot in lower light without everything falling out of focus.
That crop factor also affects the focal length, though; a 35mm has an equivalent 53.55mm field of view on a Super 35 camera. So if you were to mount a 35mm f/1.8 on the Sony A1, it would behave as you'd expect – but if you mounted it on the Blackmagic 6K Pro, it would behave like a 53.55 f/2.75 lens.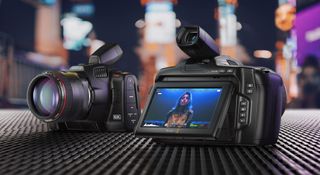 The verdict?
So, is 8K $4,000 better than 6K when it comes to the Sony A1 and the Blackmagic Pocket Cinema Camera 6K Pro? The answer, somewhat unhelpfully, is "it depends".
If you absolutely, positively have to shoot at a resolution of 8640 x 5760 then yes – the A1 is worth it, because a 6K camera can't achieve that. Likewise, if you want to shoot with an ultra-cinematic shallow depth of field, the full frame sensor of the A1 will make that much more achievable. Its low light performance should also be significantly better.
If, on the other hand, you are only going to be shooting 4K, and simply want oversampled footage to make it packed with even more detail, then the downscaled 6K of the Blackmagic will pack more than enough muscle. Further, if you want to shoot in low light conditions but don't want everything to fall out of focus, the wider depth of field offered by its Super 35 sensor will be far more to your liking.
As always, the "best" camera is ultimately the right camera for the job. Never judge a camera by its resolution, or its price, alone; examine what job you actually need to get done, and choose the best tool to enable you to do it.
Sony A1 pre-orders:
Pre-order the Sony A1 at Adorama (US)
Pre-order the Sony A1 at B&H (US)
Pre-order the Sony A1 at Park (UK)
Pre-order the Sony A1 at Wex (UK)
Pre-order the Sony A1 at Ted's Camera (Au)
Blackmagic Pocket Cinema Camera 6K Pro pre-orders:
Pre-order the Blackmagic Pocket Cinema Camera 6K Pro at Adorama (US)
Pre-order the Blackmagic Pocket Cinema Camera 6K Pro at B&H (US)
Pre-order the Blackmagic Pocket Cinema Camera 6K Pro at Park (UK)
Pre-order the Blackmagic Pocket Cinema Camera 6K Pro at Wex (UK)
Read more:
What is 8K?
Sony A1 vs Canon EOS R5
Best camera for video
Best cinema camera