Born in Slovenia, Luka Vunduk's passion for photography has taken him around the world exploring and capturing stunning scenes from the coastline of Saudi Arabia to the Grand Canyon in the USA.
But it was his image of a place much closer to home that saw Luka take the gold medal and €1,000 ($1,070/£860) in prize money at the Canarian Photo Awards 2023, a contest held in Lanzarote that focuses on nature, ecology and sustainability.
"Photography is a passion that takes me around the world to capture the most unique and breathtaking places. However, sometimes the true beauty of a place can only be discovered at the most unexpected time," says Luka.
"It took me over 10 years to capture the perfect atmosphere here," he adds.
• These are the best lenses for landscape photography
"Alpe di Siusi in the Italian Dolomites is near the border with Slovenia and is the largest Alpine meadow in Europe. It has been photographed countless times, but I wanted to capture it in a different light.
"The day I arrived there, the sky was cloudy and dense fog covered the area – it seemed impossible to get any good shots.
"But then, I felt a cold breeze on my face and I knew something was about to happen, so I waited. The next few minutes were some of the most spectacular I had witnessed," says Luka.
"The long wait had paid off and a place that I had visited many times before surprised me with an amazing atmosphere.
"Photography is a never-ending journey that is all about being present in the moment and capturing what I see in the most creative way possible.
"However, it's important to remember that the most beautiful places can be found in our own backyard."
About the Canarian Awards
The inaugural Canarian Photo Awards was held this year, to promote the best of Spanish and international landscape photography, with the final held in Lanzarote, in the Canary Islands.
Details of the 2024 competition will be announced shortly, with the event due to be held in northern Spain.
Click here for more information about the Canarian Awards.
Vunduk's passion for photography developed at a young age, alongside a deep appreciation for nature, and 35 years later, he remains as curious as ever. His desire to explore beautiful places in the world and to capture the profound experiences they evoke has taken Vunduk all over the globe on photographic expeditions. Locations he has trained his lens on include Patagonia, Saudi Arabia and Oman's desert coastlines, cloud forests in Sri Lanka, Norwegian fjords, canyons in the American West and the Italian Dolomites.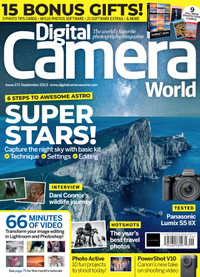 Digital Camera World is the world's favorite photography magazine and is packed with the latest news, reviews, tutorials, expert buying advice, tips and inspiring images. Plus, every issue comes with a selection of bonus gifts of interest to photographers of all abilities.