If you're traveling on the London Underground you look at your feet, your book, your phone or the map. That's it. It applies, even to the cavernous connected underground cathedrals that are the Elizabeth Line – opened by the new King's mother herself on May 17 2022.
So, on a recent commute, I found myself looking at the map above the doors even though I knew where I was going. It's good to have something to zone in on, though – the rails are still so new and quiet that it's easy to fall asleep! I looked at the stations in the central section. They seemed familiar. Oddly they made me want to reach for my camera (not always appropriate in the tube) or my favorite drone (absolutely not!), and yhat's when it hit me.
Beneath the line itself, the interchange stations have colored blocks to match their own lines – and they closely resembled the color scheme of SanDisk's range of microSD memory cards, which appear a lot on our list of best microSD cards. The more I looked, the more it seemed deliberate. Or strangely coincidental.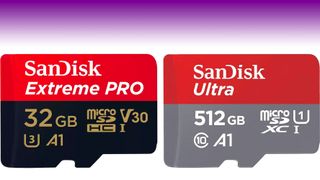 Now, to be absolutely clear, no one at Digital Camera World is saying that SanDisk paid Transport for London for this particular color alignment. We know that many Londoners were irked when Ikea sponsored the paper tube map – and, more importantly, the colored block approach to interchange station design has existed long before the Elizabeth line.
Why SanDisk aficionados might be making this mental connection for the first time is the new line's route, which takes some of the load from the red Central Line. That provides the red stripe, which matches with other appropriate colors at the Northern Line (black, for Extreme Pro cards), Jubilee Line (grey, for Ultra cards), and Circle Line (yellow, similar to gold for Extreme cards).
Whether it has driven me to invest in extra memory cards – or spend more time using the ones I have – I cannot say. But I do find myself looking at Bond Street, Tottenham Court Road (the spiritual home of camera shops in the UK), and Liverpool Street that bit harder on the map.
If the Tube has got you jonesing to buy more memory, take a look at the best memory cards, along with the best memory card readers and the best external hard drives.