I lived in Cornwall for almost 10 years, and in that time was lucky enough to shoot in some beautiful places. When a friend of mine approached me and asked if I'd be interested in shooting in a newly refurbished manor house, I jumped at the chance. As a fashion photographer, getting access to locations can be tricky.
I went to visit the house, and immediately felt captivated by its romance. It's located in quite a secluded part of the county, the Lizard Peninsula, and it's probably my favorite area because it's so wild, rugged and was the chosen area for Daphne Du Maurier's' Frenchman's Creek.
While walking through the grand rooms, that definitely had a lot of story to tell, I imagined a young, glamorous woman, running away from a life in the city with her lover. The photo shoot you see here is how I imagine her day would progress on her wedding, from her waking up, to getting ready, to the end of the day.
We were lucky to have a gorgeous sunny day when it came to shooting, and thanks to the massive windows, I didn't need to use much artificial light. I'm a sucker for soft, golden light and, as it was late November, the sun stayed low almost all day.
Makes the dream work
These shoots are always a big team effort, and I was lucky to have an incredible stylist on board, Nicole Davidson. She brought along some beautiful clothes, my favorite being the long and sparkly wedding dress, which kept catching the light in amazing ways. My favorite shot of the day, though, has to be the ones taken on the chaise longue surrounded by flowers. Working with Down By The River Florals, we created the vision I had. It was a dream come true!
I shoot a mix of film and digital. I've always shot with Nikon, my current setup being the Nikon D750, and my film camera is a Nikon F100. I used both of these here. My lens of choice at the moment is either the 50mm f/1.8 or 85mm f/1.4, both of which I love. Because I'm shooting a mix of digital and film, I try to match my digital to my film images as closely as possible, to make the story run together. To make sure that my colors are as accurate as possible, I use a Datacolor SpyderX Pro to calibrate my laptop and my desktop screens, which means that I know that my colors will always be true to life.
A shoot such as this involves more than just the photographer. A big thanks to the team: Photography: Olivia Bossert Hair: Zeb Gethen Makeup: Charlotte Albert Styling: Nicole Davidson Photography Assistant: Jade Hill Model: Tamsin Hough Jewellery: Tiffany Weller Flowers: Lisa Marie Grigsby Location: Tremayne House
Read more:
Best Nikon cameras
How to color calibrate your monitor with a Datacolor SpyderX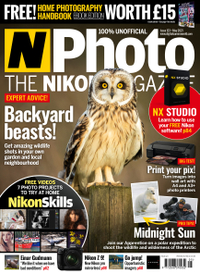 N-Photo: The Nikon Magazine is a monthly publication that's entirely dedicated to Nikon users. For the best news, reviews, projects and more, subscribe to N-Photo today!