We're all familiar with 'urbex' – exploring and photographing dilapidated old buildings – but Alice van Kempen takes it a step further, as she documents in her book Furbex…
Recently, I started exploring abandoned places and buildings – better known as 'urban exploration' or 'urbex'. I'm fascinated by how Mother Nature is taking back what once belonged to her.
I came up with the idea to let Claire, my bull terrier, pose as a model in these abandoned buildings. This resulted in a series called Furbex, urbex photography with a furry twist.
The urban adventures with Claire were also a means to creating a positive image of a breed that is often misunderstood. The bull terrier is a sweet-tempered clownish dog; they love humans and their companionship.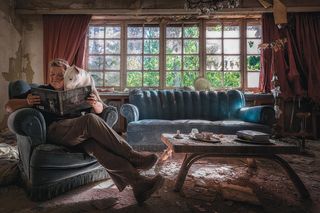 The photos were taken at sites across Europe, some of which no longer exist because they have since been demolished or restored. We strictly follow the urbex rules, but not all of our visits have been legal; sometimes it's not possible to ask permission because the owners are deceased, or no one – not even the neighbours – know if there are any owners. We always leave the place untouched and use the motto, "take only pictures, leave only pawprints." That means we never break anything to enter a site; there must be an existing entrance, otherwise it's a no-go. No vandalism, no theft, we're there to take photos.
As for Claire and my safety, we don't take any risks, it's just not worth it. This means a lot of preparation at home and, if a location doesn't feel safe, even after travelling hundreds of miles, we don't go in. I've got special boots, and so has Claire. While entering a building Claire is kept on a short leash all the time, only allowed off-leash when she's posing.
Gallery: Alice van Kempen's furbex images
When I started the project I did have a book idea in mind. I'm not new to book publishing, having self-published two bull terrier books – a history book and a coffee-table book – but this time I wanted to do it 'right' and chose to look for a publisher. Thanks to winning the Wildlife category of the Outdoor Photographer of the Year competition, I came into contact with Ammonite Press. When I showed them a selection of photographs they were very enthusiastic.
I have worked with Nikon kit since I started as a pro photographer. I began the Furbex series using a Nikon D800 with Nikon 24-70mm f/2.8 and Tokina 16-28mm f/2.8. Last year, I bought the Nikon D850 and recently the Nikon 14-24mm f/2.8 to replace the Tokina. The latter is my favourite lens for Furbex. I now use both cameras; D850 with 14-24mm and D800 with 24-70mm.
The ruff with the smooth
There's is so much to see and capture in these buildings. However, light conditions are far from ideal, nonetheless I only make use of existing light; it's the best way to show the beauty and decay of them.
In the scarce light, shutter speeds of one, two or even four seconds are required to capture Claire posing in rooms where daylight does its utmost to penetrate. The dynamic range of the D800 and D850 is a massive help in these spots.
Different locations throw up different challenges: sneaking into an Italian castle in the middle of the night to avoid the villagers, then waiting hours for the first ray of light to appear; being inside an abandoned orphanage when machines suddenly turn up to level the ground – the only thing we could do was walk out with a poker face, wishing the spectators a good morning and leaving quickly…
Furbex: A Dog's Life of Urban Exploration by Alice Van Kempen is published by Ammonite Press, £12.99
Read more: