On Saturday, October 14 a solar eclipse will be visible from across the US. From a 125-mile-wide path stretching from Oregon through California, Nevada, Idaho, Utah, New Mexico, Arizona, Colorado, and Texas it will be possible to see a 'ring of fire' as the moon covers just the central 90% of the sun for a few minutes.
Arguably the best view of this 2023 annular solar eclipse is that circular halo around the moon, but since everyone in the US – as well as in Canada, Mexico, and Central and South America – will see a partial solar eclipse, it pays to know how to take an image.
• Where to photograph 2023's 'ring of fire' solar eclipse in America
The vast majority of images of the eclipse will be attempted using a smartphone but, despite the quality vastly improving in recent years, imaging a partial solar eclipse using a phone is not easy. It's necessary to use solar filters for the entire event – you must not look at this eclipse with the naked eye at any time – but by being careful and creative it is possible to get some great images of the event with a smartphone.
Most importantly, get organized ahead of October 14. Look at this interactive map for an idea of the path, and click on your location for a detailed breakdown of what you'll see and when. For something automatically tuned to your timezone, Timeanddate has an excellent "eclipse lookup" search engine. Lastly, this simulation engine enables you to get a preview of exactly what you'll see.
1. Make your own solar filter
There are a lot of ways to capture the eclipse experience, but most smartphones will at some point be aimed at the sun. This is not a great idea. Not only will the resulting image look terrible, but you may damage the sensor on your smartphone. You need a solar filter. The best way to do this is to use a spare pair of solar eclipse glasses, which block out 99.999% of the sun's rays.
"Just cut certified solar glasses in half and tape one of the film pieces over the smartphone lens," says expert eclipse photographer Dr Gordon Telepun, author of Eclipse Day – 2024 and More! and creator of the Solar Eclipse Timer app. However, he's keen to point out that you should keep your expectations low. "Attempts at taking images of the sun with solar film taped in front of the smartphone camera is not going to create great images."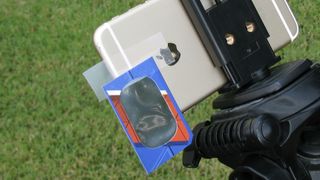 2. Get a close-up
Since the eclipse will be tiny in the default view, it will be impossible to resist the temptation to zoom in slightly. What zoom you can muster will entirely depend on the model of smartphone you have, with flagship handsets typically more capable of optical zoom (which is way preferable to digital zoom, which simply degrades the image).
Another technique here is to use one of the best lenses for iPhone and Android phones, which will manually add some optical magnification. But perhaps the best way is to use a telescope with a good quality filter on the front of the telescope, and then to hold a smartphone over the eyepiece to snap an image.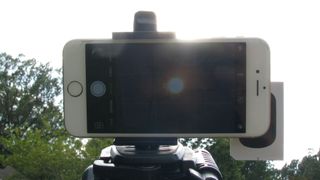 3. Use a tripod
If you are going to go for any kind of close-up then heed this extremely important advice. "You must use a tripod if you want to zoom in – you will do poorly hand-holding the phone," says Telepun. "There are many brands of smartphone holders that have the 1/4-20-inch thread to attach to a tripod."
Shop around, because it's important to use a tripod that is up to the job. As well as being sturdy it needs to be able to point to the altitude of the eclipse at your location. For example, in Manhattan on October 14 the eclipse will be visible 40º above the horizon. "Many tripods are limited in the altitude they can point to," says Telepun. "With lightweight gear like a smartphone, you can cheat to get more altitude by making the tripod legs uneven to gain an upward angle."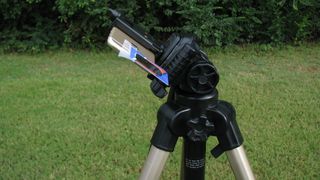 4. Use a shutter delay or a Bluetooth remote
Touchscreens are a pain when it comes to photography. Each time you touch your smartphone's screen it introduces a tiny wobble, which will blur the image – particularly if you're zoomed in.
"Consider using the few-second image delay feature so the vibrations you cause by tapping the phone to take the image have time to settle down," says Telepun. "There are also Bluetooth phone camera release devices so you do not need to touch the phone."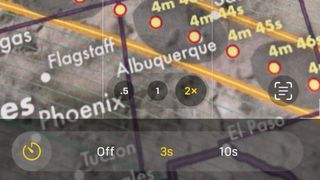 5. Photograph eclipse-chasers
Although it's so tempting to focus solely on the eclipse itself, photographers with huge zoom lenses and cameras attached to telescopes will get those shots in much higher quality than a smartphone is capable of.
Besides, the most memorable shots are likely to be going on around you. Simple images of people wearing solar eclipse glasses can capture emotion, particularly displays of awe and delight.
6. Project the eclipse
If you have a pair of basic binoculars and a spare tripod then consider constructing your own sun projector. It takes some patience to line it up, but it's possible to project the eclipse onto the floor – or, better still, onto a white card – for viewing safely. This gives you a close-up of the sun and the chance to include people in the shot, too. Never look at the sun through binoculars unless solar filters are attached to both objective lenses - but you could invest in a specialist pair of the best solar eclipse binoculars for the occasion.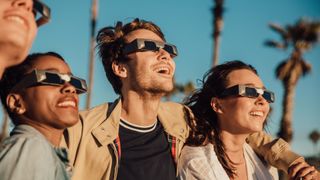 7. Capture crescent suns
Photographing crescent-shaped light patterns close to the peak of any partial solar eclipse can often herald the most interesting images. They can often be visible clustering beneath trees.
To create them yourself use a colander – or anything else with small, regular holes – to project small shadows in the shape of the eclipse sun. This is the pinhole effect, often used in pinhole cameras for safely viewing eclipses, where light passes through a hole and projects an inverted image of the sun.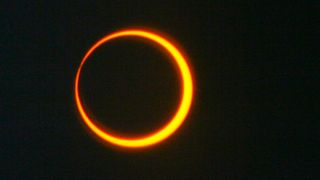 Looking for the best camera phone to photograph the eclipse then check out our top picks in our guide. If you want to go further than your phone, you can also check out the guide to the best telescopes for astrophotography.