Live: Sony A9 III professional mirrorless camera is launched
It's official! Sony is launching a new Sony Alpha camera today! Follow the announcement live with us for all the details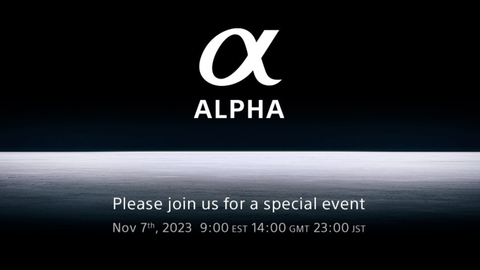 (Image: © Sony)
Sony has confirmed that we can expect a new camera to be launched imminently, with an announcement scheduled for scheduled for 09:00 EST / 14:00 GMT / 00:00 AEST today (Nov 7)!
As the holding page on Sony's YouTube channel suggests we will definitely be seeing a Sony Alpha camera, but unfortunately for those like us playing a guessing game of what it might be, Sony's Alpha series covers a wide range of cameras from Sony's ZV range of vlogging cameras all the way up to its ultimate professional cameras like the Sony A9 II and Sony A1.
As we have already seen a few of Sony's midrange cameras this year, we think it's pretty safe to assume that we'll be seeing one of the best Sony cameras receiving an updated model. But we don't have long to wait now!
You can follow along with us here on the live blog, or you can find a link to the video below to watch the announcement live on YouTube.
See our hands-on Sony A9 III review
Refresh
The most prominent camera rumors doing the rounds have so far been dominated, by a potential Sony A9 III.
There is one big reason why this would make plenty of sense – the Olympics. The A9 series represents Sony's flagship sports camera lineup – and as we all know, flagship sports cameras are typically released in four-year cycles in sync with the Olympics. Not only was the Sony A9 II launched to coincide with the 2020 Olympic Games, it was announced around this exact time in 2019.
We are not ruling out Sony launching (yet) another in its line of ZV cameras for vlogging. These have been enormously popular products for Sony, and there might be a few more content creators that haven't yet been satisfied by one of Sony's several ZV offerings. However, we think an announcement of this scale more than likely points to a more flagship model.
There is also a prominent rumor that Sony will also launch a new lens alongside the new camera. The most likely candidate seems to be a new Sony FE 300mm f/2.8 lens, which would add further credence to the rumors of a Sony A9 III, as a 300mm lens would be the perfect accompaniment to that sports-focused camera.
If a Sony A9 III is announced then we don't have any conclusive rumors about what specs it might have, with some rumors pointing to a 44MP sensor capable of 8K 60p, while other rumors suggest smaller sizes of 36MP or 24MP.
But whatever the megapixel count, you can bet it will be fast, with rumors suggesting it will be able to shoot 120fps blackout-free. But we will take this rumor with a pinch of salt, as the Canon EOS R3 and Nikon Z9 currently top out at 30fps. Although Canon and Nikon might have even faster cameras planned for early next year.
There are also a lot of rumors floating around suggesting that a potential Sony A9 III might be the first consumer-level camera to debut a global shutter. This has long been rumored from both Sony and Canon who are the two big sensor manufacturers in the industry, but as of yet, we haven't seen many instances of the technology put into practice outside of industrial applications. If Sony has managed to get a global shutter working in a camera like the A9 III then this would be a huge thing!
We are now live! We are going through the history of the Sony Alpha cameras. Its been 10 years since the first Sony Alpha 7 camera
Announcing two big software updates are planned for the Sony A1 and Sony A7S III next year with lots of improvements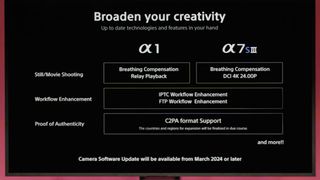 And now for the first announcement from the event! And we called it right earlier and it is going to be the Sony FE 300mm f/2.8 GM lens. Does that mean that we are going to see the Sony A9 III later too?!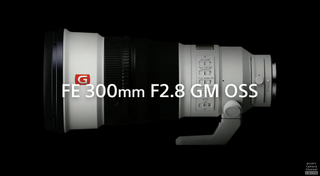 The Sony A9 III has been announced, and the rumors nailed it. The camera is the first consumer camera to offer a global shutter, with 120fps, and any flash sync speed, this is an absolute game changer for the camera industry!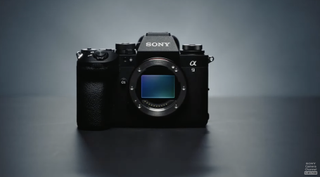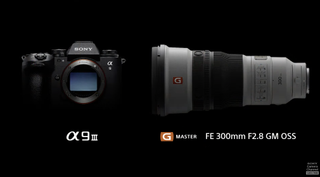 The sensor is a 24.6MP BSI CMOS sensor. Sports cameras usually have lower megapixels than more general purpose cameras so they can push through images faster.
Although at 120fps, the global sensor shutter clearly has had a huge impact on how fast Sony is able to processing images. Sony has just said that a burst of 120fps a second of uncompressed RAW images would be 6GB!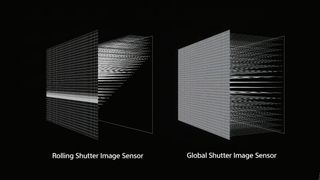 The camera is also able to use all of Sony's tracking and recognition algorithms which have featured in the best Sony cameras so far. Sony's subject skills have long been some of the best in the industry, but now with such a ridiculously fast shutter tracking sports and wildlife is going to be so much more precise.
Going through 120fps sounds like a nightmare, but luckily Sony has thought through this, and 120fps images will appear as a "video" which can be paused and individual frames pulled out.
Flash sync is now possible up to 1/80000, which opens up way more possibilities for photographers, and gets rid of HSS and curtain sync modes that are often very hard to understand or make work in an ideal manner.
759 focusing points covering 95.6% of the image sensor. And can focus down to -5EV.
The A9 III has an 8-stop 5-axis in body image stabilization, that isn't even including the lens-based stabilization in some Sony lenses.
The camera will also be great for video, offering top specs of 6K video in 60p, or 4K 120p with no crop, which is the first Sony camera to include 120p without a crop.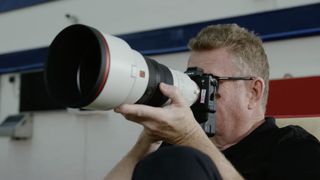 The viewfinder has a 9.4 million dot EVF with 120fps, which sounds incredible to use, and will be able to keep up with sports and wildlife photography.
The Sony A9 III is coming in spring 2024 and will cost $5,999!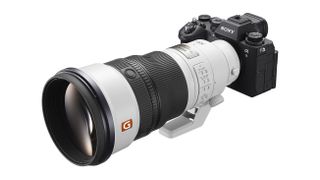 Some info below for the new Sony FE 300mm F2.8 GM OSS: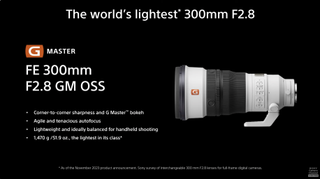 Sony has managed to make the new 300mm so much lighter and claims that the lens is perfectly balanced on both a tripod and in the hand.
The lens is also compatible with Sony's 1.4x and 2x teleconverters.
The Sony FE 300mm F2.8 GM OSS lens is going to be out in spring 2024 for $5,999! or £6,100.
That is it for Sony's presentation, but what a lot to take in! So many world's firsts in a camera with the Sony A9 III and we cannot wait to get our hands on it in the next few hours (keep an eye out for our hands on review).
Not just the A9 III, the Sony FE 300mm F2.8 GM OSS is also a very exciting lens for any sports or wildlife photographer who wants a telephoto with a large aperture, but now in an even lighter and more compact body!